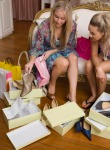 After a solid start to the holiday season, the National Retail Federation has announced that it is revising its forecast to 3.3 percent, up from 2.3 percent. The upward revision is due to improvement in a variety of economic indicators including stock market gains, recent income growth and savings built up during the recession, all giving consumers the capacity to spend.
"The start to the holiday season has surpassed all expectations," NRF President and CEO Matthew Shay said in a statement. "While employment data is still a concern, we are starting to see improvement in other economic indicators that support an increase to our forecast. In order to sustain this momentum for retailers and the U.S. economy, there must be a renewed focus on jobs as we enter the New Year."
The full story can be accessed HERE.