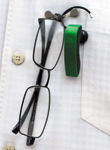 According to eyecareAmerica.org, there are 3.4 million people in the U.S., age 40 and over, who are visually impaired, suggesting eye health and care as growing problems. For those millions of people with impaired vision who are confronted with larger concerns like scheduling eye exams and updating their eye care solutions, Rick Hopper, creator and founder of Readerest, has a solution to eliminate a smaller, but frequent annoyance experienced by everyday eyeglass wearers.
Being an eyeglass wearer himself, Hopper explains, "Like most people I had a problem with my glasses, my reading glasses especially. I'd stick them in my shirt when I wasn't using them, because I didn't have a place to keep them. Then I'd bend over to pick something up and they would fall out and get scratched on the ground. Or, I'll leave them lying around and then I can't find them when I need them." Inspired by this annoyance, Hopper developed an eyeglass holding solution, first produced from everyday household items: a paperclip, a washer and apoxy. Now, the Readerest sports a stainless steel design, strong enough to hold the weight of 50 pairs of glasses on most shirts and blouses.
Hopper details the durability and strength of the product, explaining, "It's a lightweight product, but it's super powerful. The product works on sweatshirts, fleece, denim, and just about every type of clothing except for a thick motorcycle leather jacket." Beside its wearing flexibility, the Readerest illustrates flexibility in its usage, as Hopper has known some customers to hang their Bluetooth earpiece, golfing tees, as well as fishing hooks and lures on the product, in order to keep them secure and at their side.
Readerest's simple design and expansive usage have created such a stir that Hopper has successfully marketed his product to hospital gift stores, salons, wineries and hardware stores, and gained some international attention in the U.K. Independent retailers are invited to visit the product website to review the growing fashion designs. Although the website lists retail prices, the Readerest is available at wholesale prices, in three different order levels of $250, $1,000 and $5,000.
For more information:
Readerest
1800 Sandalwood Ave.
Fullerton, CA 92835
Tel: 866-776-7787
Website: www.readerest.com