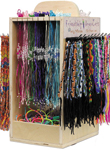 Carrying about 1,200 skus of today's trendy jewelry and souvenirs, Monster Trendz' products are popular in the Caribbean and Hawaii, as well as among head shops, smoke shops, gift stores and souvenir outlets. Matt Huusko, founder and CEO of Monster Trendz, describes one of the leading trends known as friendship bracelets, saying, "We've got all styles, old and new, deep and wide, and they wholesale for only four cents apiece, with retailers getting $2 and up for them. Usually most of our merchandise sells for a four time markup, so it's a pretty good deal."
Among those "pretty good deals" to add to your $150 minimum order is Monster Trendz' silicone slap bracelet line, which wholesales for $1.25 to $1.50 and retails for $4.99. Inspired by Lance Armstrong's fundraising Livestrong bracelet, silicone bracelets remain an accessory favorite. Huusko explains, "Silicone bracelets come and go, but that is fine, because there is always a new one to replace the last one." Monster Trendz' silicone slap bracelets for today's trendy customer come in an assortment of colors and feature power words, such as "Peace," "Honor," and "Strength." In fact, Monster Trendz' carries a product line solely dedicated to silicone power balance bracelets that wholesale for $1.35 each and retail at $4.99. These hologram Boost energy bracelets are available in an assortment of colors and are selling fast.
Volume discounts are automatically calculated online as buyers tally up their orders. Orders over $500 are discounted three percent, while orders of $1,000, $1,500 and $2,500 get an eight, 13 and 18 percent discount respectively. Huusko also mentions, "We also do an email special every month, and have a Twitter feed that tweets out coupons on a regular basis. Anything we can do to help our customers, we'll do it." This includes a 15 day money back guarantee if a customer is not satisfied with a purchase, as well as a promise to exchange any portion of an order for the same value of goods within 30 days.
Huusko began selling his jewelry and souvenirs at Grateful Dead concerts, exhibited at his first tradeshow in January 1990, and is now accessorizing worldwide with a niche in supplying to beach resorts, where kids gather for spring break. Yet, Huusko has noticed two more markets really opening up, commenting, "At the moment, we have two real specific markets and product lines growing. One is our Rasta products and the other is our Rainbow Pride products." Although Monster Trendz finds success in listening to customers and researching today's trends and growing markets, the company also invests in marketing and product displays to enhance salability. Huusko admits, "Even when we have a really good product, without fixtures or displays it never really pulls in all the possible potential sales. Therefore, we have our own display factory, and no product is sold without the appropriate merchandising displays and graphics."
For more information:
Monster Trendz, Inc.
One Washington Street, #5017
Dover, NH 03820
Tel.: 603-617-2845
Toll Free: 866-365-6425
Website: www.monstertrendz.com