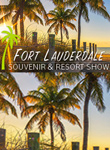 Back by popular demand, the show formerly known as the Fort Lauderdale Gift Show is returning August 18- 20, 2018 to the Greater Ft. Lauderdale/Broward County Convention Center in Fort Lauderdale, Florida. The new Fort Lauderdale Souvenir & Resort Show will bring established lines and best-selling souvenir and resort products together with new resources and new product selections, all in a cost-effective, convenient setting south Florida retailers have come to expect. Produced and managed by Pinnacle Shows, LLC, the 2018 edition of the Fort Lauderdale Souvenir & Resort Show will also offer a special section dedicated to products available for immediate delivery.
"After hearing from retailers who have really felt the need for a South Florida centered show – one where local retailers can find all their buying needs in a convenient location close to home, we knew it was time to re-introduce a show in the Fort Lauderdale area," says Matt Miller, president, Pinnacle Shows, LLC. "We listened and are making sure we are bringing in the product lines and resources that retailers and their customers want. That's why we are fine-tuning our product offerings in the souvenir & resort categories and introducing a cash and carry element to this show. We are so excited to meet the specialized needs of the area retailers and their customers this August."
Show attendees can expect a wide range of established lines and new companies at the new show, including American Gift, Koppes Kandles, Joe Goldberg, Eagle Products, Globe Imports, Goldfarb-Fischer, Jaco of America, Jim Mayer, Noveltex, Pichincha, Presco Sea Life, Sea Creations, Stetson Seashells, Wildlife Artists and many more. For more information visit www.ftlauderdalegiftshow.com.