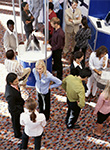 1. Do your homework
Almost all trade shows list exhibiting vendors on their websites. Depending on the size of the show, you can sort these lists by what types of merchandise they offer or whether they are a new or returning vendor.
Researching all vendors in the categories you are interested in will save you a lot of time and trouble once you are at the show. Not only should you research the products and deals offered by each company, but also their reviews, customer feedback, and Better Business Bureau rating. Price and quality of products is important, but customer service, shipping, return options, and turn around times can be equally as significant.
Many vendors will have products that they are debuting at the trade show, or selling exclusively at the show. Especially if you are attending an order writing show, having other customers' reviews in the back of your mind will help you make the best and most informed purchasing decisions while you're on the show floor.
2. Go with your gut
Having the right price and right quality for your products is important. Finding suppliers that meet those needs is a no-brainer. If all goes well with these products, you will be placing repeat orders and relying on this supplier to meet your customers' needs. As a retailer, your relationship with your supplier can be just as vital as their products. Accessibility, reliability, and accountability are traits all trustworthy suppliers should exhibit.
If you have a bad feeling, or a negative first impression from your interaction at their booth, that is probably not a relationship you want to start. Suppliers are at the top of their game at trade shows. They are there to impress retailers and earn new clients. If the supplier does not impress you now, it will only get worse.
3. Set up appointments
If you find a company you are very interested in while doing your homework, do not hesitate to set up an appointment. Meeting-up with a supplier one-on-one will give you time and space to actually get to know the company, not to mention have their undivided attention. Try to set up these appointments for the day before the show opens. If all goes well, you may be able to get first dibs on limited merchandise or deals.
4. Don't be afraid to try something new
Much of the value in attending trade shows is finding new suppliers, trends, and opportunities. However, it's easy to fall into a routine where you only purchase from familiar companies. Stable supplier relationships are valuable, but you are likely missing out if you overlook new vendors.