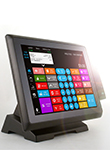 Darren Schwartz and Doug Nolan found themselves with a problem. The successful small chain of tobacco industry stores they owned were in need of a new inventory and pricing system, but nothing that was on the market at the time was a good fit. What to do? Well, if you're Schwartz and Nolan, the answer was simply to build your own specialized software system and move forward.
It didn't take long for other retailers in their field to notice the new system Schwartz and Nolan were using, and as a direct result of their requests to share the software, FasTrax POS was born. Over the following years, Schwartz and Nolan continued to add to their original software, resulting in a highly advanced system, complete with back end office pricing, a fully integrated inventory control system, and other customized modules applicable to specific real-world retailer needs. Not only did the POS company grow, so did their retail company, nearly tripling their total number of stores over the years.
Director of Operations, John Griffin, explains the continuing drive behind the company's growth. " I would say over 90% – really 100% – of what we do is based off of customer needs and their requests. It's not our idea of what's needed, it's based on what our customers, our retailers, need and what they tell us they want." As a full service retail automation service company, FasTrax offers a suite of tools that are simple to use and flexible enough to accommodate any type of retailer.
"One of the terms we use is Modular Harmony. You've got all of these different features and utilities that work independently in the system but they are all meant to give you a singular point of interaction and give you the details that you need to improve your profit, to raise your bottom line. We know that retailers need to identify where they are losing money and where they need to shift focus so that they can make money," continues Griffin, "FasTrax does exactly that."
Retailers are empowered by the reporting available within FasTrax. Integrated with the inventory management system, store owners are able to get a very strong handle on the products that are moving and making them money, and those that are not.
"It's increasing the retailers disposable capital," adds Griffin. "You're increasing the money that is available to buy what you're really selling because let's face it, your inventory is your money. You've spent that money when you bought the stock. It's an investment and you need to get it back. We call this an enterprise solution because the single store operator using the Fastrax system is going to have all the big benefits of a multi store operator, but customizable to just their store or stores. It's a very scalable system – it's a very streamlined process where store owners get a large overview of what's happening but have the granularity of control."
Add to this the additional capability of digital signage boards to advertise in-store, FasTrax POS offers a host of readily affordable and easy to use options for every retailer. FasTrax offers a one-on-one onboarding and training session to get retailers up and running. Griffin notes "There are other products out there but they don't have dynamic pricing like we do, they don't have all of the design features we have and our set up process is so much easier than others. We are 100% focused on retailers."
For additional information on FasTrax POS system, please visit www.FasTraxPOS.com or call 256-319-3470.