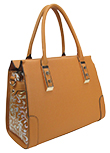 "Our friendly staff and fashion forward bags," are what set AR New York Handbags apart from the crowd, according to Pheng Taing, manager. "Instead of bringing mostly discounted and last season products, you can find the newest handbags. The Pantone color of the year is Rose Quartz and Serenity, so that made a perfect addition to our spring line."
Founded in 2007 by Ai and Renyi, AR New York carries designer quality handbags priced for boutique stores. "Handbags for modern women juggling careers, school, and family, AR New York has bags for women of any age," says Pheng. Their product offerings consist of totes, satchels, clutches, cross bodies, wallets, coin purses, makeup bags, and phone cases. "Some of our best selling styles are our bag-in-bag totes. We have a lot of different totes that have an extra bag inside. It's almost like buying one bag and getting another free," continues Pheng.
There is a low order minimum of $100 for buyers, and you can mix and match styles. "We recommend getting a variety of styles and colors. With a minimum of only $100 it doesn't hurt to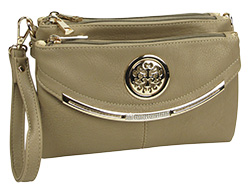 try. We're sure you won't regret your purchase." For new customers, Pheng recommends starting with bestsellers such as 2-in-1 totes and double zipper wallets in neutral colors. "Our styles are always changing and our repeat customers love it. Our average wholesale price is around $17. You can find good deals on our website when we have sales and promotions. Depending on what type of store you run, you can retail our products anywhere from $49.99 and up. We have heard of customers who retail our products for quadruple the cost, giving them a great return on investment."
AR New York is offering a discount for Independent Retailer customers. Use the coupon code 10Retail for 10% off of your first order. Please visit www.arnewyorkhandbags.com to view their complete collection.
AR New York Handbags
121 W. 30th Street
New York, NY 10001
Tel.: (212) 564 – 5368
Website: www.arnewyorkhandbags.com