Hosting nearly 100 shows annually across the USA, odds are good that if you are in the jewelry business, you've not only heard of The International Gem & Jewelry Show, you have also likely purchased some of their one-of-a-kind pieces. If you haven't yet had the pleasure of attending a show, check out their upcoming roster and go!
June shows include venues in St. Paul, MN; San Mateo, CA; Denver, CO; Houston, TX and Timonium, MD. Wherever your store is located, a show will be within a short drive. Marketing & Communications Director Brian Fischer adds, "We also produce the spectacular G.L.D.A. Buyers Show at The Mirage Hotel, Las Vegas, May 30th – June 2nd, and the InterGem Buyers show in Tucson, January 28th – February 5, 2017. We welcome new exhibitors to join us."
Fischer explains how the shows have expanded to reach their current packed schedule. "The shows are really the brainchild of Herbert Duke, who, back in 1967, had an idea about opening a buyers' show to the public. Mr. Duke came up with the concept of a show that was a buyers' show, but he also wanted an event where people could come in and buy directly from designers and manufactures from across the world. At any given show, we might have designers and manufacturers from India, Africa, Russia, China or any country on the globe, all bringing their own cultural designs and styles to a show."
The International Gem & Jewelry shows are open to the public, but each show also has a special section devoted to wholesale-only purchases for retail store customers. "This is merchandise that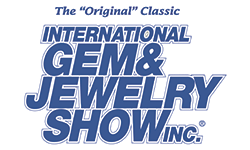 you aren't going to find at a chain store, or at a mall, you just don't see it all over – it's very different," says Fischer.
In fact, the huge range of pieces and individual style and flair of the jewelry available at each show is a main aspect of the company's success. Fisher continues, "In a lot of our markets, we can have upwards and over 200 individual exhibitors, so you don't have to drive from mall to mall, or store to store looking for that perfect piece of jewelry. You can just walk ten feet and see something completely new. That's the beauty of The International Gem and Jewelry show. You see a completely new look and style with every new exhibitor booth. You can keep walking through the show until you see what you like, then you narrow it down, you try it on, you take a look at it. At our shows we have award-winning designers and manufacturers from the four corners of the earth – and they bring their own culture to their unique pieces. We have it all. And they can make whatever you want. If you like a setting but want a different stone, these craftsmen can do that for you. Custom orders are easily done."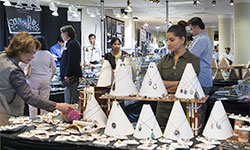 Selection, low prices and the latest designs are just a few points of pride for the company – another is their fierce support of entrepreneurship and independent business owners. Offering booth space to hundreds of vendors at every show, Fischer notes that the company is fully supportive of US job creation. "When a number of Main Street shops closed and the big chains moved in, we gave these business owners an opportunity to join us. We are truly proud that we've been able to work with these independent business owners and have been able to provide them a second chance to operate their distinctive businesses. Every one of our vendors is independent. We provide the foundation and the electricity and the booths, but these professionals all work for themselves, and they employ people. They hire jewelers to size rings, to work with the customers, they employ sales people, and they offer that old-style Main Street customer service."
2017 will ring in the company's 50th anniversary in business and Fischer has already started planning the year-long special events. "We do high-profile advertising and marketing promotions all year long," says Fischer. "To give you an example of the promotions we do regularly, in Marlboro, Massachusetts, we ran a Mother's Day give-away of a strand of fine pearls and a pair of Andrea Bocelli tickets. In Chicago, we're doing a big promotion for shoppers to win Prom & graduation bling, then we move into Summer colorful beach and pool jewelry in June, and then in July, we're focusing on jewelry that sparkles. Come to the show and find your sparkle. What's going to sparkle brighter, you or your jewelry?" Fischer laughs.
To find an upcoming show near you, check out the full list at www.intergem.com.
Upcoming 2016 Shows:
Houston TX, June 17-19,
Timonium MD, June 24-26,
Marlborough MA, July 1-3,
Pasadena CA, July 1-3.