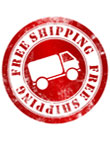 Free shipping is an enticing promotion that more and more retailers are offering year round, according to a new survey from Shop.org, the online retail arm of the National Retail Federation. Nearly 35 percent of respondents say they already offer free shipping all year long, compared with 23.1 percent who did so a year earlier. In the survey involving 91 retailers, 16.3 percent had planned to begin offering free shipping as a holiday promotion the last week in October. Additionally, 51.2 percent of online retailers surveyed planned to start their online holiday marketing promotions by Halloween. Retailers realize they need to snap up sales fast this year, as there are only 26 days between Thanksgiving and Christmas compared with 32 days in 2012. Nearly 32 percent of respondents say they plan to offer discounts earlier than they did last year.
Additionally, research conducted by ecommerce technology provider MarketLive Inc. about online holiday shopping preferences finds that 91 percent of shoppers would likely take advantage of free standard shipping offers, and 31 percent say free shipping is an incentive that would prompt them to pay full price for an order. Furthermore, 87 percent of shoppers say a guarantee that an item will be delivered by the date promised is a top customer service priority, while 72 percent say they want to buy or reserve a product online or via their mobile phone for pickup, before coming into the store.
Also of interest, retailers are using small screens to drive big holiday sales, Shop.org reports. More than 50 percent of retailers are optimizing email for mobile as part of their holiday marketing strategies, 44.7 percent will use smartphone paid search campaigns, 21.3 percent will adopt text message campaigns and 17 percent will employ QR codes or other bar code scanning promotions.