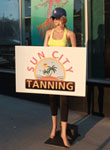 Sign waving mannequins from SignDolls.com are today's surprising alternative to live sign spinners. These lifelike and life size dolls can be placed in or around a business, holding a full color sign with a targeted advertisement, rain or shine. Sign waving dolls reduce advertising costs as well as employee management hassles, and inspire customers to do a double take and stop into a merchant's store.
Increase traffic and sales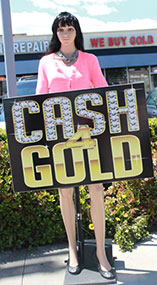 "Our dolls work amazingly well for retailers in many different industries," says Adir Levy, CEO. "They are so new that many consumers have not seen them before, and they are great conversation starters. A lot of people say they cannot tell they are not a live person until they walk up close and see that something mechanical is involved. People go into a shop and talk about the 'girl' standing outside. Importantly, retailers are seeing that because people walk into the store more frequently, they are also purchasing more often."
Sign waving mannequins offer another clear advantage to live sign spinners. Human sign spinners often quickly flip their signs around to get noticed. This gets consumers' attention, but they may not be able to read the sign because it is moving too fast and the ad goes unnoticed. "Our mannequins get a lot of attention and people can read the messages on the signs," Levy assures. Not only are the mannequins functional and fun, they also offer retailers huge money savings. Paying a live sign spinner a salary, insurance, taxes and benefits can cost around $3,000 a month. The price of a sign doll is $797 plus $67 shipping, or about one week's pay for a sign spinner.
Customize look and message
Merchants can choose a male or female doll with either a blonde or brunette wig, and then dress the doll to suit their goals. "For a limited time, we will be including one sign and basic clothing. Merchants have dressed them in all types of apparel, from casual to formal, and even in costumes such as a nurse, Wonder Woman, chicken suits and much more. We recommend that retailers change the sign and the clothing regularly, to keep the interest level up," Levy adds.
SignDolls.com offers both battery operated and plug in models, with the latter costing $50 less. The battery can last for ten to 15 hours on a single charge, depending on usage. Sign waving mannequins are shatterproof, and come with a rear metal pole for extra support, a metal loop to chain the mannequin down for security, and attached wheels for easy transportation. The mannequins and all parts have a full one-year warranty from manufacturer defects, and are assembled in the USA.
SignDolls.com
11733 Sherman Way
North Hollywood, CA 91605
Tel.: 888-988-9327
Website: www.signdolls.com