By IvyLee Rosario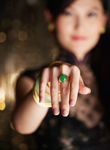 For the past 42 years, Gem and Lapidary Wholesale Shows have been at the forefront as the top gem and mineral buyers destination. With shows covering Michigan, Arizona, North Carolina, Massachusetts and Florida, the event continues to grow as its exhibitors are exposed to the best services and customers in the business. Gem and Lap is ending its 2015 trade show run on a high note as they take on four different locations in the month of October; Livonia, Michigan from October 2-4, West Springfield, Massachusetts from October 9-10, Asheville, North Carolina from October 20-21 and finishing off in Orlando, Florida from October 23-25.
The Gem and Lapidary Wholesale Show is a business-to-business event, which allows retailers to attend and purchase stock from wholesalers to sell in their stores. In attendance will be an array of exhibitors including fine jewelry dealers, bead dealers, fashion jewelry and diamond dealers. Many of the exhibitors at Gem and Lap have been partaking in the shows for years, some which have been a part of the show from its inception. The number of exhibitors for October ranges by location, the smaller shows having an average of 50 and the larger ones ranging from 70 to 130.
"The company was started in 1974 by my father Bob Schabilion, back when there were no tradeshows and things were sold to you by traveling salesmen," said Candice McNamara, President of Gem and Lap. "It just started with a small group of twelve wholesalers who took the show from town to town, and then it just grew from there."
Although the shows come in a vast array of sizes when it comes to location and number of buyers and exhibitors, Felicia Crigler, Publications Manager for Gem and Lap, promises that all the shows will provide the same great experience for both buyers and exhibitors. The sellers will see a good group of buyers, all with different needs. In return the buyers will find styles and products in the lapidary industry from around the world, all in one location.
"In general, all Gem and Lap shows are the same. We are wholesale only; buyers come in and buy in bulk. It does not matter if a buyer attends a show with 7 exhibitors or 700," said Crigler, "they will all have a great time and are guaranteed to find amazing items to sell in their stores. The buyers that attend our show are confident in knowing that all of our shows will house the same type of products they are looking for, and the quality and quantity of each will be exactly what they want."
In order to attend a Gem and Lapidary show, you can register for any or all shows by visiting the website www.glwshows.com and follow the links. If you are going to the show for the first time bring your I.D. and a copy of your state sales tax license, that Gem and Lap can keep, to the registration desk at the show. For more information call 601-879-8832.