By IvyLee Rosario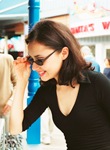 The term "mobile merchant" is an ever-changing one, and can now mean anything from operating a cart or kiosk to starting a pop-up store. Retailers are always looking for the next trending way to sell merchandise and find new customers. If you are looking to expand your product line to reach a different audience, why not consider taking up shop at your local mall or starting your own pop-up store? Leasing a cart or kiosk space is an easy alternative that can broaden your store's appeal and reach a large number of new customers. Although it may seem complicated at first, the process can take as little time as a few weeks, down to a few days, to complete. If the mall does not appeal to your target audience, then a pop-up store is a great option to try your hand at expanding into a different location or sharing a new product line.
Carts and Kiosks
Even though opening a cart or kiosk is not a hugely daunting task, there are still steps that need to be taken to ensure success. "The first step is to contact the leasing manager at your local mall who handles the common area leasing," says Coleen McNelis, Vice President of Leasing Development at Macerich. "The individual who handles the carts, the kiosks, and the vending." The leasing manager will ask questions such as what kind of product you plan to sell, what kind of volume you believe you will move, and who is your ideal customer. Once armed with this information, the leasing manager fits your new cart or kiosk into the right tenant mix in the mall. The leasing manager will then discuss where to set up the cart or kiosk with you, as well as review the different lease options and prices available at the venue. "It is important to find the best spot in the mall for your specific products," notes Skip Wilson, CEO of Olympia Gold. "You also need the best products and the right prices to attract buyers."
As a new cart or kiosk operator, you will also need to check into what permits or licenses are required at the venue. McNelis says that although it varies from mall to mall, the most common paperwork needed is a simple business license. Retailers should check with their specific city or town to see what permits or licenses are needed, as well as how they need to be displayed at the cart or kiosk. Something else to consider: finances and timing. Typically, after the leasing agreement has been signed, the retailer must pay their first and last month's rent up-front to the leasing agent. If you plan to run your cart or kiosk for only a short term, make certain the leasing agent is aware of your time frame when you first begin discussions.
Once you've decided to try your hand at a new location, choosing between a small cart or a larger kiosk is a decision that you should think through, especially considering the venue. Will you need a large display area for demonstrations or for showcasing larger products, or can you make do with a small space at first? "Presentation and knowledge about the product is key when selling at a cart or kiosk," says Eric Sherman, President of Eco Smart Designs. "We have everything from single, double and even four-sided displays to help our clients get set up. Retailers need to make sure each product has its own space and is neatly displayed."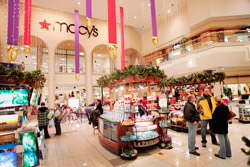 Customers coming to the mall are there for all different kinds of reasons — to eat, see a movie, to shop at particular stores — so catching the attention of potential buyers is very important to cart and kiosk sellers. "Jewelry is a great category of merchandise to sell if you have your own cart or kiosk," comments Shlomit Kordich, owner of Go Steel Inc. "It is easy to attract people with something shiny, especially if you put the most popular items front and center for customers to try on." Retailers need to make sure their display is eye-catching and appealing. Whether you use unusual signage, bright colors, fun packaging and displays, or the product itself, buyers need something that will pull them to your cart or kiosk to shop your wares.
Pop-Up Stores:
Why choose to open a pop-up store? If you are looking for a relatively inexpensive way to enhance or expand your business, you can try a pop-up for a short-term run to test the waters in a new location. The current trend for specialty retailers is to open a short-term pop-up store geared to a specific holiday, like Mother's Day, Halloween or Christmas. These usually small-footprint venues are very popular with shoppers of all kinds and the short-term availability of certain products is part of the appeal. Additionally, some e-tailers choose to operate a pop-up store as a hybrid business to add to their already up and running click-and-mortar stores.
"If you want to open up a second location, a pop-up is a great idea because then you can see what neighborhoods might be right for your business," says Patti Biro, Consultant and pop-up store owner of Wine-tique. "If you have a new product line to debut or want to try and target a different demographic, pop-ups give you the flexibility and sustainability to make these changes." One simple place to start is to check into different community events like festivals or annual fairs and ask if pop-up vendors are allowed. Trying a different venue is a great way to promote your existing store brand, as well as offer your products to a whole new crowd of shoppers.
If you are interested in starting a pop-up, you will need to do your homework first. Depending on where you want to go, some cities and towns have licenses that are needed in order to operate, much like with carts and kiosks. The next recommended step is to research upcoming events or venues, which would be best to try out the pop-up concept. "Think about product selection," notes Biro. "These spaces are usually relatively small, so retailers need to be thinking about creating a collection of products that fit the venue at which they will be selling." Much like operating your own store, there are several things you should plan in detail before opening. Important subjects such as staffing, payment options and credit card processing needs, time commitments, pricing strategies, security or shrinkage prevention, are all topics that need to be thought through before diving into creating a pop-up store.
The benefits of getting into the business are plentiful, with a pop-up being one of the cheapest forms of advertising for a business, says Biro. "You can micro-target your audience easily all while having a minimal investment. For example, I have a pop-up that sells wine accessories, and I set up my business right across from a wine store. With operating a pop-up, retailers have the potential of getting hundreds or thousands of people to see merchandise that they may have never seen before."
Just like carts and kiosks, pop-ups need to be properly merchandised and sell unique and quality items that will catch the attention of potential buyers. Biro says locally produced items such as soap, jewelry, artwork, home accessories, food and up-cycled merchandise are all big sellers. "Most of the popular selling items are always following the current gifting trends, so retailers should be paying attention."
Pop-ups are a great way to expand a retail store and try out a newly available niche market. Once you find a marketplace that you feel is a good fit, Biro recommends giving the process at least three tries before determining if that space works for you. Because pop-ups are short term, your sales can be impacted by different outside events such as poor weather or a last minute change by an event organizer, so be sure to plan for at least two different seasonal attempts, if not three, before you decide if the pop-up concept really works.
What's best for you? Whether you are thinking about operating a pop-up or trying out a cart or kiosk, keep these things in mind when deciding which route to take:
Do your homework: If going the cart and kiosk direction, make an appointment with the mall leasing manager and come prepared with the necessary paperwork, your own ideas for displays and visual merchandising, how much space you want to occupy and the pitch for why your product would sell in the mall. If leaning towards a pop-up, think about the main objective or goal you wish to achieve, then check for the necessary paperwork needed. Consider local events that you can join in your ideal neighborhood.
Pick based on your product, not traffic: Malls have thousands of customers a day pass through their halls, but if those buyers are not the niche audience you are seeking, you may have trouble making sales. Take time to discover which choice is best for the type of products you sell.
Be prepared to adapt your schedule: Mall hours are very different from operating a stand-alone retail store. In your own store you set your shop hours, whereas when operating a cart or kiosk, retailers need to cover all the mall hours. With a pop-up, the time commitment is very similar in that whichever event you choose to operate, setting up and taking down tables and tents takes time and should be part of your staffing plan.
Take your time: Do not rush into the decision. Every retailer is different and the leasing department at the mall will help ease you into the process, as well as recommend what leasing options will work best for you, especially as a beginner. If you are looking to start a pop-up, do not be pressured by other retailers that may have similar products to yours. Start out at the pace that feels right, and you can always expand your collection or displays at the next event.