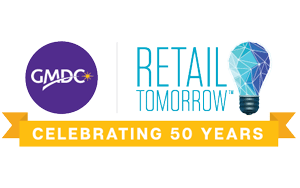 by GMDC|Retail
Leading industry trade association Global Market Development Center (GMDC)|Retail Tomorrow has announced it is rescheduling its annual General Merchandise Conference for fall 2020. Originally scheduled for June 4-8 at the Omni Orlando Resort at ChampionGate, the conference will now run concurrently with the 2020 Selfcare Summit at the Atlanta Marriott Marquis due to the novel coronavirus (COVID-19) outbreak. It is anticipated that travel bans will be lifted and stay-at-home mandates will no longer be in effect by this time.
While the General Merchandise Conference (GM20) and Selfcare Summit (SS20) events will be co-located, registration and programming for each event will be separate. GM20 will take place September 30 to October 4, while Selfcare Summit will run October 1 – 5.
Responding to the impacts of COVID-19, GMDC|Retail Tomorrow is embracing the opportunity to create co-located events that will be positioned to help guide members through the resulting new business landscape. With many of the long-term impacts of COVID-19 still unknown, event timing has shifted to protect the health and wellness of its members while providing resources for navigating anticipated lasting effects on the industry as they unfold.
"The COVID-19 outbreak continues to profoundly disrupt many industries, including retail, travel and hospitality. GMDC|Retail Tomorrow is taking precautionary measures to ensure the safety and well-being of our employees, members and partners," said Patrick Spear, president & CEO of GMDC|Retail Tomorrow. "Postponing our GM20 event and co-locating with our second annual Selfcare Summit in October will enable our association to support members' pressing business continuity needs. It will also ensure the timely creation of new best practices in response to the lasting impacts of COVID-19 on the products and services that we represent. Our trading partners will leverage this time together to navigate what will undoubtedly be a changed retail landscape."
The co-located events are anticipated to bring together more than 150 retail and 500 supplier executives from across North America to connect, help retail industry stakeholders satisfy consumers' health, beauty, wellness, selfcare and general merchandise needs, and spark innovation for the marketplace. New consumer habits and holistic nonfood buying behaviors will be a major focus for all attendees as the retail industry continually shifts between brick-and-mortar and ecommerce.
Founded in 1970 by Fran Williams of Spartan Stores and purchasing executives from five general merchandise wholesale companies, GMDC|Retail Tomorrow is currently celebrating its 50th anniversary. For the last half-century, GMDC|Retail Tomorrow has been a trusted advisor to some of the world's largest retailers, equipping them with the resources, data and consumer-focused research and insights that lead to sustainable and profitable growth in the face of industry disruption. An expert in the nonfood general merchandise and health, beauty and wellness arenas, today the association represents more than 125,000 retail outlets worldwide.
For more information about conference programming, please visit www.gmdc.org/conferences.
About GMDC|Retail Tomorrow
Celebrating 50 years, Global Market Development Center (GMDC)|Retail Tomorrow connects people and companies to opportunities for growth through events, networking and insights that inspire innovation. GMDC|Retail Tomorrow is the leading nonprofit trade association fostering discovery, continuous learning and uncommon partnerships focused on enhancing the shopper experience. Today it represents more than 125,000 retail outlets.