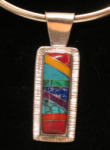 Native Crafts was started in Oroville, Washington about 20 years ago by Beverely Teall. In the beginning, traveling the Native American pow-wow circuit from spring to autumn was the name of the game. This is how Native Crafts was operated for the first decade of its existence, before getting online with the website nativecrafts.us in 1999. Nevertheless, the pow-wows and festivals were very helpful in growing the business, as Teall would attend upwards of 50 of them per year.
After having difficulty finding employment following a big move to the northwest circa 1989, Teall began selling items at flea markets, which was the earliest incarnation of Native Crafts. First attending many of them and observing how people did business, Teall decided it was something she could do herself, and make a good living at. She took a chance, and it all started growing from there. These days, Teall sells almost exclusively on a wholesale basis on the Native Crafts website, although offline sales to individuals are not out of the question.
"I dont travel anymore," she says. "I have a family member with Alzheimer's, so I take care of her now. That led me to start up a website and start doing it that way. We live in a real rural town, unemployment is very high. Not much to do for a job, so I built a business on the Internet. It has worked out really well!"
The jewelry is always among Native Crafts' top selling items. Dreamcatchers are a constant staple, and talking sticks are popular. "Pretty much anything you can tell a story about, you can sell," explains Teall.
Native Crafts sells to retail stores, to people who are working in the pow-wow and festival circuit, as well as to biker rallies and flea markets. The variety of buyers is wide, and the response has always been positive. This is particularly true of the costume jewelry and the hand-made artifacts. There is not much authentic product to be found out there, with a lot of it being made in China. According to Teall, it definitely matters to the end customer that items be genuinely native-made, or at least made in the USA.
Currently, Teall is most proud of Native Crafts' brand new line of semi-precious, Southwest-style stone mosaic jewelry. She expects them to do very well with her buyers, whether it be on the pow wow circuit, at a flea market, or a kiosk at a mall.
"They're even prettier in person than they look in the photos on the site!" she says.
Contact:
Native Crafts
P.O. Box 203
Oroville, WA 98844
Ph: 509-476-3763
Website: www.nativecrafts.us