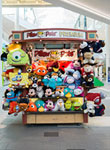 To sum kiosk and cart success up in a word, it would be "focus." While it seems like having easy access to foot traffic would be a huge advantage, running a successful kiosk is a discipline that begins long before the first product is offered for sale. Kiosk owners who are focused in their design, marketing, and product selection stand the best chance of success. Those who are relaxed, thinking that just being in a busy mall environment and offering a bunch of loosely connected "popular" products will guarantee sales, risk failure.
The kiosk and cart environment
To understand what makes a kiosk or cart successful means understanding the environment they operate in. In most retail environments, kiosks and carts have access to a tremendous amount of foot traffic. Consumers don't have to make a conscious decision to enter the store to be exposed to the marketing message; they just walk by. Yet the transient nature of this retailing environment also presents challenges. As part of the specialty leasing and design team at the Mall of America near Minneapolis, Lisa Taylor and Breatt Beaudette know plenty about what it takes to run a successful kiosk or cart, and what common mistakes kiosk owners make. "You can't just put stuff out there and have it sell," advises Taylor, specialty leasing director for the Mall.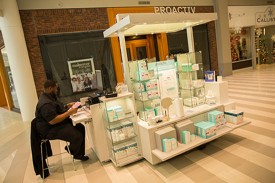 The reality is that few shoppers are specifically looking to shop at your kiosk. They are usually walking by, perhaps distracted or focused on getting to their destination store. This means a kiosk owner only has a few seconds to grab a shopper's attention, and then only a few more seconds to entice them to interact with the cart's wares. In fact, according to Beaudette, design manager with the Mall of America, retailing studies have shown that people typically scan about 20 meters ahead of themselves while they walk, with peripheral vision of about 45? to either side.
Mall operators know this, and set up kiosk and cart stands that fall within this cone of vision, and then work hard to place carts and kiosks in areas of the mall where the tenant mix around them is favorable. For example, it wouldn't make much sense to put a kiosk selling bargain merchandise in an upscale wing of the mall with famous brands, Taylor advises. After all, a shopper looking for a $500 watch is probably not the same shopper who is likely to make an impulse purchase of $10 sunglasses.
Once a good location has been found, it's up to the operator (who may or may not get help from the mall staff) to design a cart that will literally make people stop in their tracks. "Kiosks generally have a 360? approach," Beaudette says. "The sightlines and direction of travel are very important. You want color and movement, and you need to use proven retail merchandising strategies."
Movement can mean anything from eye-catching, bright pictures of people whose eyes seem to follow shoppers as they pass, to full multimedia displays with video and audio. Depending on the item, it's also a great idea to give people the chance to interact with your products, to actually touch products and experience samples whenever possible. As Taylor says, "Carts are a great venue to show the public a really neat new product." Tracey Hatley-Baker, a vice president and director of specialty leasing with the real estate company, JLL, says that kiosk operators need to make their case visually, quickly and clearly. "Common area retailers have only a few seconds to capture the eye of a customer," she advises. "Therefore, the display should be inviting and tell the customer exactly what is being offered."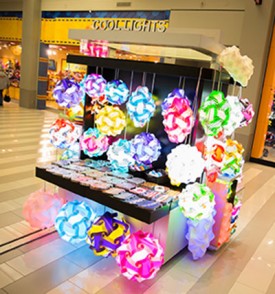 In fact, it's best to limit your product range, or at least limit the prominent display area to the most popular and eye-catching products. This is exactly what Wireox, LLC recommends for the kiosks and carts that market its line of wireless accessories and products. Wireox is both an OEM manufacturer and branded wholesaler of a complete line of wireless accessories. The company's branded products are sold under the names MVolt, M! Accessories, Action Dash Cam, Tower Accessories and Fast Action Sports Cam. "We love all of our products, but the most popular are the portable power banks and our HD Video Camera Sunglasses," says Ian Easterling, creative director with Wireox, LLC. "Everybody has their smart phones while they're shopping, for social media or taking pictures, and if you're phone dies it hurts the whole shopping experience. People will see a kiosk advertising portable power solutions and head right over."
Overall, kiosk owners need to be on guard against "mission creep," warns Beaudette. "The products that account for the top 10 percent of sales should account for 80 percent of the cart," he advises. "Too many options turns into a lack of sales. You have to catch their attention fast and avoid too many SKUs. The best carts have limited SKUs."
Taylor also recommends keeping the pricing under about $100 per item. "You can sell higher-end items in kiosks," she notes. "But once you get over $100 per item, it starts to get tougher because people have the perception that the cart is mobile and less permanent. The sweet spot is really about $15 to $30 per item, which is why T-shirts, sunglasses, and a certain type of jewelry do so well."
The consumer experience
Once you've snagged a customer's attention and they are standing in front of your cart or kiosk, the sale will often come down to the same thing all retailers must deal with: the face behind the counter. "The demeanor and body language of employees at your business can determine whether a customer stops or not," Hatley relates. "Therefore, customer service plays a great role in attracting customers to a kiosk or cart. Having the right employees is always crucial." The "right" employees means people who are friendly and like interacting with the public, as well as employees who are able to quickly educate casual shoppers about your products.
"You want someone who is not overly aggressive, but who is approachable," says Easterling. "You have the opportunity to sell to passing mall traffic, so the staff has to be very knowledgeable on the product. It'll increase customer conversion." Great customer interaction, combined with focused design and location, marketing and product selection, all contribute to help retailers get it right in the fast-moving and profitable kiosk and cart retailing industry.