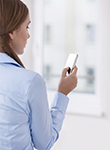 It's impossible to go anywhere without seeing people on their cell phones, which means as a retailer, if you're not on your customers' phones you are missing out. Follow these tips to make sure all your mobile basics are covered this holiday season:
Optimize Email Efforts for Mobile
The National Retail Federation Omnichannel Retail Index Report states: "People are increasingly checking email and reading blogs on their mobile devices. According to a Gartner survey, seventy-four percent of smartphone users check email on their phones." Even if your emails have discounts deeper than anyone else, or new products before competitors, if customers don't read them, your efforts will go unrewarded.
First, make sure your emails are coming from a clearly identifiable sender. Customers will not open the email if they are not sure whom it is from. Not only should your email address appear as something along the lines of "storename@storename.com" or "email@storename.com" retailers should also name their account after their store name, so that it appears as your store name in readers' inboxes. For the iPhone in particular, the "from" line is much more prominent than the subject line.
After your email address is up to par, make sure the emails you are sending have a responsive design. This will maximize readability and minimize the risk of text or images overlapping or being hidden. For example, you know an email isn't optimized for mobile if when you open it the image is larger than your screen. Many email tools and programs have a dashboard or set of options that will automatically build your emails in a responsive design format for you.
Accurate Inventory Matters
Inventory moves fast during the holidays. Your website needs to reflect the most up to date inventory possible. More than ever, consumers are visiting websites to browse and purchase before even visiting a retail location. If you offer online sales, it's imperative that if a shopper places an order, that the item is actually in stock. The last thing a consumer wants is to place an order only to receive an email or phone call telling them the item is no longer available.
If you are not able to actually sell products on your website, it is still important to reflect accurate inventory. According to Retail Systems Research's report Mobile in Retail: The New Normal, forty-one percent of customers in 2016 frequently or always webroom on mobile devices before visiting stores, up from nineteen percent in 2015. Webrooming is the practice of researching products online before going to buy them in-store. If customers view products online, but are out of stock in-store, that can lead to lost sales and lost trust. Likewise, new products and releases should be posted online right away.
Landing Pages
Whether you are sending promotional emails, boosting Facebook ads, or doing any other type of online marketing, each of those efforts need a specific landing page. If you're advertising a specific product, when shoppers click on the ad they should be brought directly to that product, not your homepage. If you're advertising an offer or coupon, the ad should take them to a page with more offer details. If advertisements take shoppers to your homepage, it makes their buying process more difficult, and increases the odds that they will leave your site or not take advantage of your promotion.
In-Store Accessibility
"The availability of in-store Wi-Fi is no longer a 'nice to have,'" according to The National Retail Federation Omnichannel Retail Index Report. "Smartphones need to be considered as part of the overall store shopping experience. Customers need access to product reviews, ratings and comparisons in order to make their purchase decisions. According to Google, forty-two percent of in-store consumers conduct research online while in stores, and forty-six percent of them are visiting the retailer's site or app." In addition to helping customers navigate your own website, read your business reviews, and utilize online coupons and promotions, offering free Wi-Fi has been found to increase the average amount of time customers spend in your store, and the amount they spend.
Independent retailers have the advantage when it comes to mobile marketing and implementing new strategies. Unlike larger retailers who have to go through pilot testing and longer implementation processes, small retailers can jump on board immediately and start providing their customers with offers and information in the place they're looking for it — on their cellphones.