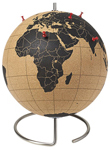 By Charlotte Biggs
In the always-changing gift industry, smart retailers know this means not just keeping up with what their customers want, but also keeping up with the latest trends. Trends can often seem difficult to pin down, or fads may not feel like they are worth the effort, but to overlook them would be a mistake. Trends help you tell stories, showcase your brand and speak directly to the wants and desires of your customers. By creating trend-based in store displays or dressing windows to reflect a new fad, you inspire your customers to buy. Similarly, by bringing together products linked by a trend you show your customers items that can be purchased together; encouraging them to bundle products, raising their gift value and in turn raising the purchase value and profit to you.
One key area to pay special attention to this holiday season is in the 'Gifts for Men' category. Men are often labeled hard to buy for, but during the holiday season the need to buy a gift outweighs any difficulty. This is where the savvy retailer can make their mark. With the right products, trend-focused displays and a customer-driven sales plan, you will be the gift expert that not only wins the sale but also wins a customer for life.
With this in mind let's take a closer look at four key trends that are perfect for the male market and the holiday season ahead.
Crafted Neutrals
Perfect for the coming months, 'Crafted Neutrals' is an autumnal trend that provides tranquility and comfort as the days get cooler and the nights draw in. The focus is on designs that showcase the sublime texture and details of natural materials: products that are textured and finished to a high quality. Seen across a variety of gift categories, the look is simple and minimal. Look out for products that use natural materials such as cork or wood. With a neutral color palette, the Crafted Neutrals trend is a perfect choice for stylish men who prefer sophistication and quality over other bright and flashy gifts.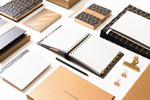 Modern Metallic
Looking once again towards materials, the 'Modern Metallic' trend is all about luxurious materials. From humble stationery gifts to high-end electronics, the shine and luminous color palette of metallics are featured across a variety of giftware and lifestyle products. The Modern Metallic trend is all about high performance materials, but this doesn't have to be price prohibitive to the independent retailer, even small touches of metallic detailing on items with a low price point work for this trend. Consider journals, art prints and accessories that offer a touch of luxury with metallic foiling details.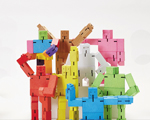 Largely inspired by architecture, 'Urban Nomads' is an ultra-functional trend for men who like products that remain simple and practical. Seek bold, graphic styling and geometric patterns across a variety of lifestyle products. Ideal for smart, sharp men, the Urban Nomads trend embraces products with a paired-back, modern look. This trend is usually limited to architectural tones of black, white and grey.
Clean Primary
For retailers that want to add even more color into their shop and window displays, our last new trend will be the perfect fit. The 'Clean Primary' trend focuses on a minimalist style that is bursting with color. Often seen in flat, matte applications, the trend references the Bauhaus art movement with color blocking used to differentiate product components. The products themselves are stripped back to the bare essentials with lean, clean and agile designs.
The beauty of these four trends is that they're not limited to any category of product; the trends have been seen across a variety of home, lifestyle and gift items. Rather than being limited to a specific niche, the trends speak to your customers' style, ideals and personal tastes. By listening to and observing your customers you can get clues as to which trends would appeal to them most and react accordingly with new stock and displays that highlight a combination of products for every man.