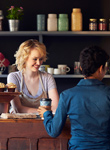 The crisp smell of fresh greens, the bite of cold wind, the twinkle of little white lights strung across doorways and shop windows – you know what season it is! Which means we hardly need to remind you that Small Business Saturday, the independent retailer's biggest day of the year, is right around the corner. With a bit of prep on your part, this year, Saturday Nov. 26 can be your 'Day to Remember.'
From its inception, Small Business Saturday was developed with independent retailers in mind, but what extra steps can you take to bring that holiday crowd swarming into your shop?
Firstly, take a look at your community. What events are going on? Does your Parks & Rec Department host a Turkey Trot or does the Chamber of Commerce or a nearby church host a Tree Lighting ceremony in your locale? If your store is close by, hang up some signs to lure in the revelers, or better yet, talk to the event hosts about being a sponsor for the event. You may be surprised at how low the sponsorship fees are, and not only will you promote good will in the community, your shop's name will be promoted all over, too!
Secondly, consider pairing up with a local non-profit or a charity: offer a discount to those who make a donation through a donation jar in your store, or set up a drop-off center in your shop. It won't take much room, and watching your customers buy things from your store to give back to others is a great way to make your customers feel good about themselves — and do good at the same time.
Small Business Saturday is also a perfect opportunity to get together with neighboring businesses in your community. If your town doesn't already host a Small Biz Saturday or Shop Local event, consider banding together with a few of the shops near to yours and get your own event going.
You could develop a very simple plan and offer something like a multi-store discount coupon, or a contest where shoppers need to find hidden items located within each store. In Bethel, CT, local small business owners hold a "Where's Waldo" event each summer where mini Waldo figures are hidden in all the downtown area stores. Those who find all the Waldo's (scorecards are available in each store) are entered into a drawing to win a gift basket filled with goodies from every participating store. An idea like this can easily be adapted for the holidays with hidden Santas, Reindeer, Angels, or maybe a local High School mascot.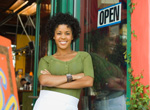 According to the National Retail Federation, 2015 holiday sales topped $626 Billion, and they claim that as of Thanksgiving weekend, fully 90% of all shoppers plan to hit the stores. Many towns and cities across the country sponsor special events to get those holiday shoppers out and about, and while finding lots of new customers is wonderful, don't forget your regulars.
If your customers are repeat customers, they already understand the importance of shopping locally all year long, not just on Small Business Saturday. Before the weekend arrives, send out a special email to your local base offering them a special discount or a coupon – unique to them only. Make sure you keep this discount exclusive — you want to show them your appreciation in a way they will love, too.
Lastly, don't forget to be social. Take to your social networks and start posting reminders, sales prices and product shots that can be shared by your fans. Including an upbeat message and a push for shopping local can help too – and if you've teamed up with a local charity, tag them and get them to help promote your store, too.
Don't wait another minute – the chance is yours NOW. We at Independent Retailer wish you an amazing Black Friday and a spectacular Small Business Saturday!