Glitsand® by Kristash® Bijoux is a unique collection of clear acrylic tubes containing a mixture of glitter and sand. The line includes pendants worn on chains or bracelets, and earrings. Made in the USA, the tubes are available in sterling silver and pewter. The interior mixture is made in all 12 birthstone colors, and can be customized by combining any two colors. In addition, Kristash Bijoux will be creating, "Colors you love cheering for," says founder and designer, Robin Wilson. Stainless steel tubes retail for $40, sterling silver tubes sell for $50, and the sterling silver toggle tube is $60. Wholesale is around half of retail, and all tubes come with the hook and can be attached to any chain.
Stainless steel & sterling silver chains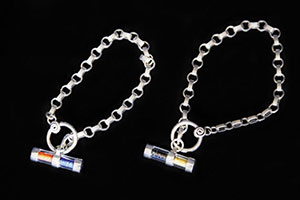 Kristash Bijoux has a variety of chains available, including a 16-inch black cord chain, 16-inch stainless steel chain, sterling silver toggle bracelet and necklace, and sterling silver and stainless steel lariat style chains. The chains are designed to hold one or several tubes. "I have tags for the chains that are engraved with Glitsand by Kristash," Wilson adds. "I also have blank tags, so I can custom engrave them with any city or state, or a person's name." The dangle earrings are available in stainless steel with an ear wire, and sterling silver with an ear post.
Wilson has been in the jewelry business for 30 years. "Over the years I saw that most companies carry the same look when it comes to birthstone and mothers' jewelry collections, and I felt the need to create a more elegant design." Wilson designed Glitsand and launched the product in May 2013. "The response has been good. Glitsand was very popular for Mother's Day and the holiday season. Mother's Day is coming up, and I expect the product to sell well again this year. The south is huge on college sports, and that is another focus right now. I am working on getting the licenses which would allow me to create a line featuring the colors for Oklahoma, Texas, Kansas, Georgia, Alabama, Nebraska, and other schools."
Custom displays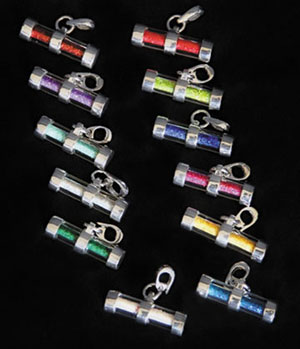 "Once I have secured the licenses, if they are in University of Texas or Texas A&M territory, for example, I will design a sample display with those colors in them," she continues. Based on their location and desires, Wilson creates a custom display for each of her customers. In addition to the sample products, retailers also purchase an assortment of tubes, birthstone colors and chains, if desired, so they can create the final products on the spot. Retailers are given pamphlets that showcase the pre-made color mixes, and have a special order form. For custom color orders, the turnaround time is about a week.
There is no minimum order, and Kristash Bijoux offers a selection of four free displays. Three clear cast acrylic locking counter cases are available: the 18-inch model spins and has angled shelves on both sides for tubes and chains; the 16-inch display has a shelf on one side with a flat back, and the smallest case has two angled shelves. The company also has a non-locking display to hang tubes.
Kristash® Bijoux
Tel.: 720-542-3114
Website: kristash.com