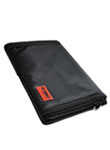 Pontiac Eleven designs and manufactures innovative protective cases for Samsung Galaxy tablets, and Apple iPads and MacBooks, sold through its Go Tablet online store. The products are the creations of CEO, Jerome Jao, a self-professed gadget aficionado. Jao started designing accessories for his own use, and has been manufacturing them for retail sales since 2006.
Galaxy Note 10.1 Case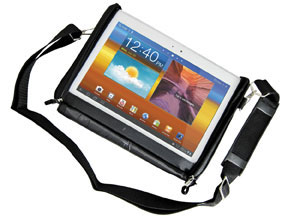 The firm's latest introduction, after more than a year in design and testing, is the Samsung Galaxy Note 10.1 Activity Case. This lightweight activity case is meant to be used full time. The secure strap allows it to be carried like a small messenger bag and can also be placed around the neck to use the tablet while standing, without fatigue. It is not necessary to remove the device from the bag to use it. ?The Galaxy tablet is instantly usable by unzipping the front flap of the case. ?The triple layer fabric offers extreme protection if the tablet is dropped. The case has a ballistic nylon exterior, pliable foam insulation for shock absorption, and a smooth nylon interior to keep the tablet unscratched. The product's stainless zipper pulls and hardware are significantly resistant to pulling. "We've thrown this case in the back of cars, dropped it repeatedly on the ground and used it daily. There was not a scratch on the Galaxy tab," Jao reports.
iPad & MacBook Cases

The company also offers two Padded Ballistic Nylon Hybrid Cases for iPad, as well as a Hybrid Folio Case for MacBook. The Padded Ballistic Nylon Hybrid Activity Case w/Strap displays the iPad in a portrait orientation, and the Padded Ballistic Nylon Hybrid Travel Case/Mini-Messenger Bag provides users a landscape view. Each unit zips open to reveal the tablet, and fits iPads 1-4. "My iPad product allows consumers to use their iPads while commuting, on a plane, train or bus, in a coffee shop, or anywhere," explains Jao. "The comfortable strap can be placed over the shoulder or around the neck, and it is really convenient because it's a bag and case in one."
For the MacBook Air and MacBook Pro, Pontiac Eleven created the Hybrid Folio Case/Messenger Bag. "Consumers who travel or go to a Starbucks to use their MacBooks used to have to put it in a sleeve and put the sleeve in a bag. Ours is a messenger bag that functions as a shell, sleeve, folio or bag," Jao continues. "You just put it on the table and flip it open to use the MacBook. It protects the computer and is very easy to use." The Hybrid Folio Case is available in all the MacBook sizes, including 11, 13 and 15-inch. Pontiac Eleven's iPad cases wholesale for less than $20, and retail for $39.99. The case for the MacBook wholesales for around $25, and retails for $49.99. The minimum order is $500.
Great for consumers & retailers
Not only are these products great for retail sales, they often are used by retailers themselves. Many merchants take payments with apps that attach to their iPads, and they benefit by having their devices close at hand. "With so many consumers and retailers using Samsung Galaxy tablets, iPads and MacBooks, the market for our products is huge," Jao notes. "People love our cases. There is nothing else like them on the market. We will be introducing a case for the iPad mini, so watch for it coming soon."
Pontiac Eleven LLC
405 Tarrytown Road
White Plains, NY 10607
Toll Free: 800-701-8478 ext. 3
Website: gotabletstore.com