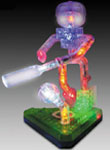 The Original Lighted Construction Set™ from Laser Pegs® is a line of kits that combine light and building, two things kids love. Nearly 50 kits are available, and each contains clear or colorful construction pieces in various shapes that snap together securely, as well as a power source. Children can create lighted figures, vehicles, buildings and more. "Any time you add light to something, it is going to get a child excited," says Richard Hitt, national sales manager.
National Geographic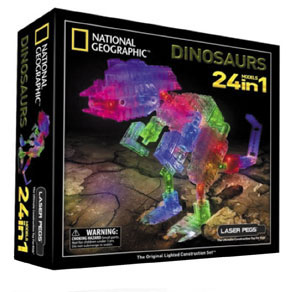 New to the selection are five licensed National Geographic kits: "6 in 1 Ocean," "12 in 1 Animals," "24 in 1 Dinosaurs," "24 in 1 Space Kit," and "30 in 1 Landmarks and Archaeology," the last of which includes a 3D light board. Three licensed MLB products were launched earlier this year, and three NFL kits were released in 2013. Instructions to build the number of items specified in the kit name are included, "but the beauty about construction and kids is that they are going to create all types of things. There is a lot of open play with our kits," Hitt points out.
National Geographic kits retail for $24.99 to $79.99. For the entire product line, retail starts at $12.99 for the Zippy Do, a 3 in 1 set to build a car, helicopter and plane, and goes up to $99.99 for the Educational Series. Profit margins are generally 50 percent.
Award winning
Laser Pegs has received several awards, including the Oppenheim Toy Platinum Award, Dr. Toy's Best 100, Dr. Toy's Top 10 Tech, and Parenting Magazine's Toy of the Year. "We are very proud of the high quality of our products," Hitt shares. "Our sets provide a safe way to foster imagination and promote creativity, which many parents want for their children. They move very quickly for the retailer." Another great selling point is that Laser Pegs are compatible with major brand construction toys, including Lego and Connect, so children can bring light to other models. Parts are safe for kids five and up, products have a 90-day warranty, and each LED has an expected life of 11 years.
Demo play tables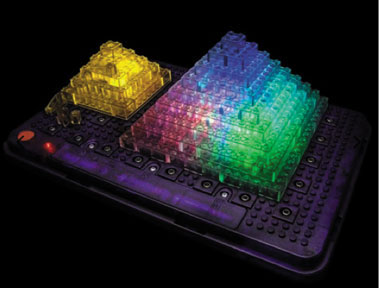 The minimum order is one case, which contains six to 12 items. Point-of-purchase displays are available, including "Try Me" boxes with two pre-lit models inside that have a 20,000 click life span. "We often give them to our customers for free, depending on the size of an order," Hitt explains. "We also have demo boxes, free T-shirts to giveaway and other things. We do whatever we can to support our customers." Laser Pegs is now retooling its demo play tables. They will be available again in September, and come with 150 laser peg pieces. "Storeowners leave them plugged in and allow kids to open play with them," Hitt reports. "If you place a child in front of a play table, he is going to stay there. Kids really love our constructions sets."
Laser Pegs Ventures LLC
8304 Consumer Ct.
Sarasota, FL 34240
Toll free: 866-432-3735
Tel.: 941-371-0909
Website: laserpegs.com