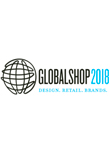 The first GlobalShop show and conference took place in Chicago in 1993 and was called The Store Fixturing Show. Now, 25 years later and after rapid growth and expanded product categories, GlobalShop is an "evolved concept, serving the entire figurative world of store design." It is the retail industry's only annual event that combines store design, visual merchandising, retail technology, and shopper marketing under one roof.
GlobalShop has a lot to offer and is a huge show; there are over 500 exhibitors and approximately 10,000 attendees. However, the show floor is organized and easy to maneuver. There are pavilions set up based on buying needs, such as store fixturing, store design and operations, at retail marketplace, visual merchandising, and more! For first time visitors, GlobalShop recommends planning the visit in advance using the free online planning and appointment setting tools offered through GlobalShop Connect. For their frequenters, GlobalShop has many new additions that must be taken advantage of.
There are many educational sessions, networking opportunities, and things to see and do at GlobalShop. There are two specific sessions that GlobalShop recommends to independent retailers: The Keynote presented by WWD and The Main Street Comeback. The Keynote tells the success story of Kendra Scott. It is compelling and a great source of inspiration for independent retailers. The Main Street Comeback is presented by Lauren Chipman, the CEO of Chipman Design Architecture and discusses design opportunities arising from the resurgence of main street retail that are available to independent retailers. As far as networking goes, GlobalShop recommends the design:retail City Scene and the PAVE Bash, both are favorites of GlobalShop's Associate Show Director. If this doesn't sound like enough things to do, be sure to check out The Windows of the Magnificent Mile. It is a collection of window displays by retailers and another great source of inspiration and celebration of brick and mortar retail on one of the country's most recognizable retail districts. From research to entertainment, GlobalShop has a multitude of resources and offerings.
GlobalShop takes place March 27 through 29 at McCormick Place, Chicago. Retailers and brands receive free expo hall passes. Register at www.globalshop.org. Hotel accommodations, special offers, and more information is also available on their website.