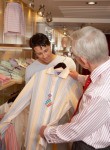 Sales at U.S. retailers enjoyed their biggest gains in five months for August, calming fears that a double-dip recession may be looming.
The Commerce Department cited strong sales at both gas stations and clothing stores, the second straight month of gains. Sales were up 0.4%, following July's revised 0.3% jump, Reuters reports.
"[The numbers suggest] American consumers remain resilient despite the backdrop of high unemployment and declining home values. On the margin, this data reduces some concerns about a double-dip recession," said Omer Esiner, chief market analyst at Commonwealth Foreign Exchange in Washington.