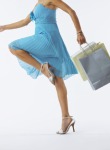 Retail sales in the U.S. climbed more than forecast in September, easing concern that consumer spending will weaken and endanger the fragile recovery, Bloomberg.com reports.
Purchases rose 0.6 percent following a 0.7 percent gain in August that was larger than previously estimated, according to Commerce Department figures released in Washington. Other reports showed inflation cooled even further last month.
"They're reasonably solid consumption numbers," Jim O'Sullivan, global chief economist at MF Global Ltd in New York, told Bloomberg. "Momentum is going to be up again in the fourth quarter."
For a complete look at the numbers across the board, and more analysts' input, click HERE.