Good Stuff Apparel is just launching its online presence—and that is potentially good news for wholesale buyers of women's apparel. According to Good Stuff manager Ryan Ninow, the company "recently moved online to provide the boutique retail experience to our customers with year-round service."
Good Stuff already had existing relationships with manufacturers, offering wholesale women's fashions and competitive prices, but the move online has pushed Good Stuff's prices even lower. "I do not know of any lower pricing," Ninow said.
Good Stuff offers fashion apparel for women from a number of branded manufacturers. The company's products include overages, cancellations, and other unsold merchandise. The product line includes all women's apparel, including junior, misses and plus-sized clothing. The company also offers Made in the USA clothing.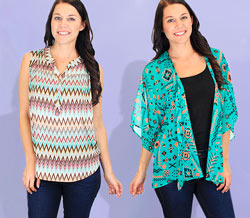 Good Stuff works with all types of retailers, including dollar and discount retailers, mom and pop shops, and anybody else selling discount women's fashion.
When it comes to merchandising, Ninow has some good advice for retailers: "I would not concentrate too much on fashion-forward clothing. Instead, I would focus on understanding where your city and demographics are. For example, LA trends are very different than those in the Deep South. We will find that trends that were hot in the coasts are hot in the South two years later. So I would know your market, and we can work with you to find fashion for your market."
As part of the company's online push, the website has been designed to offer a boutique shopping experience to wholesale buyers, with lots of pictures and a clean, modern design that looks more like a retail storefront than a typical wholesale distributor.
How to Buy Products
Good Stuff products can be purchased directly from the company or through the website, which offers secure checkout. There is no minimum order. Shipping is free for orders more than $250. For orders under $250, there is a flat rate shipping of $9.95. Same-day shipping is available.