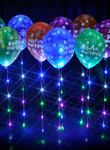 Fortune Products is bringing a little Hollywood magic to the wedding and event planning business. Based in Lake Stevens, Washington, Fortune Products specializes in designing and selling battery-operated, professional-quality products for weddings, events, parties, and other gatherings. According to Greg Hayenga, sales manager, these are the products used by professional party rental companies and event planners.
"We try to bring the products designed for professional party and wedding planners to the retail level for smaller retailers," Hayenga said. This includes high quality string lights, table centerpieces, and hundreds of other products.
The most popular products, however, include some of the new battery-powered LED items like the Starsphere string lights or the ever-popular Fairy Berries. This trademarked product is a small ball with a tiny LED glow-light in the middle. They can be strewn around a venue, placed on tables, hung from trees, or hung from string or wire to create a magical effect. "We introduced forty new products this year," Hayenga said. "Our Fairy Berries have been an amazing seller. They have been featured in celebrity weddings and on reality TV shows."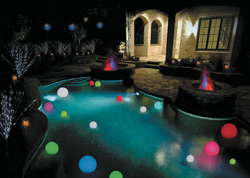 When it comes to increasing sales of Fortune's products, Hayenga recommends setting them up in groups, just like they would be used in a real event. It is also a good idea to darken the section where they are displayed, so customers can see how they glow. He also noted that some of the products could be plugged in, which makes it easier to set up permanent displays. The products sell well in any type of store where customers would normally come to buy supplies for parties or events, as well as general stores and gift shops.
One of the powerful advantages of buying wholesale from Fortune is the company's unique products and its philosophy toward wholesaling. Unlike other wholesale companies that also retail their own products, Fortune is strictly a wholesale supplier, Hayenga said.
"We don't have any pseudo names we are doing business under, no branded product, no storefronts," he said. "This helps us put profits in retailer's pockets, because our customers never have to compete against us under another name."
How to Buy Products
Fortune Products carries a huge variety of battery-operated event décor and party supplies, ranging in price from inexpensive to high-end. The company continually changes its product catalog, adding new items and colors all the time to keep its offerings fresh.
To become a wholesale customer, you have to provide a business license or retail license. Once you're approved, there is no minimum order and no minimum lot size. Hayenga says the company will do broken cases. Orders are shipped the same day. Most Fortune Products items have at least a 100 percent mark-up at the retail level.