Fantus Paper Products knows greeting cards. The company has over 60 years of experience selling boxed cards, and through its related company P.S. Greetings, individually sold card racks. According to Don Wilkin, sales manager, the most popular products include the 10-count boxes of cards and a newer 12-count box of foil-stamped cards.
The products are perfect for dollar stores, convenience stores, big box retailers, and variety stores—pretty much anywhere greeting cards are sold. The boxed cards are themed; with birthday cards being the most popular, but Fantus also sells get well cards, everyday cards, sympathy, and friendship cards.
"We refresh the designs every few years," Wilkin said, "but a lot of customers are used to seeing the designs they like, so sometimes we will hear from customers when we update a design that they miss the familiar one." The 12-count boxes of foil-stamped cards have been growing in popularity since they were introduced.
To help retailers merchandise its products, Fantus offers a variety of sales displays, but Wilkin also advises that displaying the cards on a speed table works just as well for many retailers. "They will sell fast if customers can see the designs and see the boxes," he said.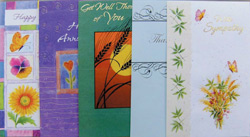 For larger business customers, Fantus also offers a boxed assortment of 50 cards, covering all the major categories. This is a popular choice among businesses that need to keep a supply of cards handy for whatever occasions might arise.
Recently, Fantus also started offering the jumbo cards that are so popular with mass merchandisers. "Our jumbo greeting cards are competitive price-wise to the mass merchandisers," he said. "We give big discounts on a wide variety of jumbos, including Valentines and Mother's Day."
Fantus products can also cover your stationary and paper products, with a line of note pads, writing tablets, and other writing accessories, which are all made in the USA.
How to Buy Products
Fantus paper products can be ordered from the website or direct from the company. Wholesale customers need to provide a tax number and business address, and the company offers discounts for multi-store chains. There is a $50 minimum order, but Wilkin advises customers to look for ways to go over the minimum order to reduce freight costs, which can be significant on smaller orders.
Fantus also sells product through a variety of distributors, which can help reduce freight. He recommends Variety Distributors in Des Moines, Iowa, and Promotions Unlimited in Racine, Wisconsin. Fantus can also help with merchandising and display advice.