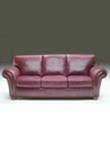 Variety, quality, pricing and experience are why customers depend on Mid-America Liquidators. The company's customers range from retailers with one store, to chains with 40 stores. Mid-America has specialized in namebrand merchandise at fair prices for the last 17 years. General merchandise, electronics, designer clothing, namebrand mattresses and furniture are available on a daily basis. Mid-America is a full service salvage company that can coordinate retailers' merchandise and shipping needs.
John Olivarez, CEO, has 42 years experience in merchandising, originating with Sears in 1969. Larry Burritt, Chicago Manager, has 25 years of liquidation experience with Sears, and Bob Garrison, Sales Executive, spent 25 years as a Sears Outlet store manager. Jared Olivarez, Operations Manager, and Marc Macoubrie, Merchandise Manager, have a combined 30 years of outlet merchandising experience.
Contact Mid-America Liquidators at 816-796-9800, or visit their website at www.midamliq.com.