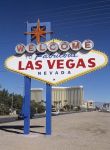 THE OFF-PRICE Specialist Show takes place February 14-17 at the Sands Expo and Convention Center in Las Vegas. "This will be our last show in this venue, Hall G of The Sands. Next August, we will be moving upstairs in Halls A and B. There is a lot of excitement surrounding this move to a bigger and brighter space," said Don Browne, marketing director and group publisher of Off-Price Specialist Center, which operates the show twice a year. "The perception of this show has really moved up in recent years," he continued. "The perception now is that this is a show with real value, which is what it has always been about. You will find popular lower price-point items and great basics, plus top designers and brands. You will also find non-branded items which appeal to boutique buyers, and more boutique buyers than ever are coming to our show." The show features about 450 exhibitors, and about 10,000 attendees are expected.
"We are the official off-price component of Las Vegas Fashion Week," Browne said. "We are actually a great fit, because with other fashion shows running at the same time in Las Vegas, people are there to kick the tires. If there is something at other shows that excites or interests them, it may take anywhere from two to three months to get merchandise. Our advantage is that our exhibitors have merchandise ready for immediate delivery. It is not just 'yesterday's news' anymore. The gap between fashion forward and off price is narrowing. We could not be happier with our place in the event."
Browne said that because of the Off-Price Specialist Show's pricing, which is 20 to 70 percent below retail, the retailer is given tremendous power on how they can price items. Retailers can stay within the typical price matrix and maintain the integrity of the store, or can go down a few dollars or a few cents and generate real excitement in relation to their competitors. As for growth areas, Browne said that accessories have grown by leaps and bounds. There are excellent brands in handbags, purses and sunglasses, and there is growing interest in home and gift items. Formal wear for women is also very strong.
The next Off-Price Specialist Show is scheduled in Las Vegas August 15-18, 2010. But in between now and then, the Off-Price Specialist Center will do a smaller show in New York. It will be called, "A Taste of Off-Price," running May 2-4, 2010 at Gotham Hall in Manhattan at 36th Street and Broadway. "A lot of our vendors will have immediate stock at that point in the year," explained Browne. "They will have spring and summer, and fall back to school product. By design, we are making it a real showcase, and there will be only 45 to 60 booths. Each exhibitor can bring one booth worth of samples, so it will be the best of the best. That first week in May is a very busy market week in New York, and people can come by the Off-Price Show while they are doing their regular rounds."
For more information:
Off-Price Specialist Show
16985 West Bluemound Road
Ste. 210
Brookfield, WI 53005
Tel. 262-782-1600
Website: www.offpriceshow.com