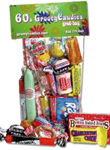 Youthful memories can be triggered by music, movies, cars, and yes, candy. At least that is the trend that Nick Marra, president of Groovy Candies, and Joe Martin, sales director, are noticing. According to Marra, "We brought back Atomic Fireballs, Pumpkin Seeds, Candy Cigarettes and a few other retro items, and they just took off." Initially offering a collection of candies from the 1960s, demand increased and similar collections for the 1950s, 70s and 80s were developed and sold. Groovy Candies is also looking into classic favorites such as Astro Pop, Black Cow and Slo-Poke candy bars, and although wholesale pricing on product varies depending on quantities and volume, most retailers are getting keystone and more. Among the company's current favorites and top sellers is Bonomo Turkish Taffy.
Bonomo Turkish Taffy Restocked and Retailing
Hitting shelves in the 1930s, Bonomo Turkish Taffy was a childhood favorite for nearly half a century, until its last production in 1982. A five pound assortment of bite size pieces, offered at $18.44 wholesale with a suggested retail of $21.95, Bonomo Turkish Taffy is a blast from the past with good value. Other offers include the 1.5 oz. bar in a 24 count box for $16.79 wholesale and $19.99 retail, and bite size pieces in a two pound bag at $7.94 wholesale, retailing for $9.95. As last seen in 1982, the taffy product uses the original recipe, displays the same wrapper design, and can be purchased in original flavors such as vanilla, chocolate, strawberry and banana.
Bonomo Turkish Taffy is just one of the many items on Groovy Candies recommendation list. Martin explains, "With close to 12 years in the online candy business, Groovy Candies has acquired 150 manufacturing and buying connections in the U.S., providing us with 2,200 candy listings on our website." Candy can be purchased in two and five pound bulk varieties, wrapped and unwrapped, or for a cheaper option, case count is also available. Groovy Candies markets to a wide variety of clients, including wholesale suppliers, hotel caterers, wedding and event planners, commercial real estate or restaurant owners that put bowls of products out for customers, and independent retailers such as mom and pop theatres and convenience stores looking for retro products to add to their lineup.
Martin explains, "Above all, we pride ourselves on our customer service, offering easy online shopping by color, brand, bulk, special needs, and much more. Any order can be expected to arrive with no delay, as our central location in Cleveland, OH, allows for fast shipping." And to think it all started in 1999 with about 20 different candies that both Marra and Martin grew up with as kids!
For more information:
Groovy Candies
7480 Brookpark Road, Cleveland, OH 44129
Tel.: 216-472-0206
Toll Free: 888-729-1960
Website: www.groovycandies.com