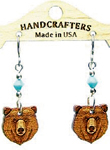 Don't be fooled: traffic signs aren't always found at the side of the road, and the cautionary sign for dangerous curves isn't always indicative of the road ahead. Handcrafters, a U.S. designer and manufacturer of gift shop jewelry, has brought commonplace traffic signs to life with the development of its Traffic Stop jewelry. Well known for its engraved cherry wood jewelry pieces, Handcrafters' experimentation with new materials has led it to a completely different and marketable look. Traffic Stop jewelry, manufactured to look like warning traffic signs, provides customers with exciting new products. According to Jim Schimerowski, owner of Handcrafters, "Among the most popular items are the 'Dangerous Curves' and 'Soft Shoulders' earrings." For retailers serving consumers looking to add a little bling to their dangle earrings, designs are available with an additional Swarovsky crystal, adding about a dollar to the wholesale cost.
POP Displays Help Market the Jewelry
Sold keystone between $6.50 to $8.50 retail, and a smart value purchase for $3.50 to $4.50 wholesale, distributors, wholesalers and retailers are sure to stop in their tracks. In fact, such a reaction is what the Stop sign POP display for Handcrafters' Traffic Stop jewelry was designed for, and can be purchased in multiple sizes to make the most efficient use of your counter space. Taking pride not only in his handcrafted jewelry, Schimerowski is also particular in his POP display offers. A 10 hook display with 23 French hook earrings is available for $100.50 wholesale, with the addition of two free pairs of earrings to offset the $10.00 cost of the display.
Beginning in 1983, Handcrafters' evolving product line has come a long way from its Montana based picture stone jewelry and clocks, locally mined and carved. Schimerowski confesses, "The business is a hobby that has gone viral." With the purchase of a laser engraving machine in 1998, the company made its strongest impact in the gift and souvenir market, developing bone and wood jewelry. In fact, Handcrafters' cherry wood jewelry, $0.95 wholesale with a suggested retail of $10.95 to $12.95, continues to be a best seller among gift shops and jewelry shops, and even four national park tourist shops. Aiming to tastefully display the jewelry in a salable fashion, Handcrafters' newest display design, among its box, animal and state shaped displays, is a log display. "Maximizing space with a circular design, the log enhances the natural themed jewelry Handcrafters is so well known for offering," explains Schimerowski.
For more information:
Handcrafters
5947 N Slope Rd.
Helena, MT 59602
Tel.: 406-458-9029
Fax: 406-458-9622
Email: mont51@earthlink.net
Website: www.wholesalecentral.com/handcrafters