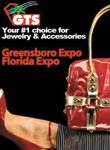 Resale and retail buyers will find world-class importers, manufacturers and wholesalers of the latest fashion and fine jewelry, handbags, apparel, closeouts and accessories at eight upcoming trade shows hosted by The Golden Triangle Show, Inc. Merchandise for sale will include fashion jewelry, priced from $1 to $100, as well as more expensive fine jewelry, says Bobby Siddiqui, CEO of the company. "Sterling silver jewelry is very popular this year, and we have a lot of importers and wholesalers that specialize in that." Another trend stems from Pantone's color of the year. "You'll see more emerald and other greens selling well for spring and summer, in addition to a variety of other colors." Siddiqui says he also expects handbags, scarves and apparel to be popular sellers at the shows this year.
Since 2001, Golden Triangle Show has been presenting wholesale-only expos to provide retailers regional marketplaces to explore new merchandise trends and new products. Each show hosts between 250 and 300 exhibitors along with 6,000 to 8,000 buyers. Attendees sell both online and offline, at traditional brick and mortar shops such as jewelry stores, boutiques, gift shops and salons as well as at flea markets.
With four shows in North Carolina and four more in Florida, buyers will be introduced to different merchandise than they find at Las Vegas or New York shows, Siddiqui assures. "We need to have several shows each year so buyers can refresh their merchandise, as they are turning over product quite a bit." Buyers get the best merchandise and the best prices, he adds, and attendees can choose to purchase goods "cash 'n' carry" or to receive immediate delivery. Many exhibitors typically offer show specials.
Golden Triangle Show's Greensboro, NC, Expo features jewelry, juried better accessories, sterling silver, apparel, bead jewelry, gifts and handbags. It will be held at the Greensboro Coliseum on the following dates:
April 6-8, 2013
August 10-12, 2013
October 5-7, 2013
December 7-9, 2013
Golden Triangle Show's Florida Expo, featuring jewelry and apparel, attracts buyers from around the globe. It will be held at Osceola Heritage Park Exhibition Hall in Kissimmee, FL, on the following dates:
March 23-25, 2013
June 22-24, 2013
September 14-16, 2013
November 9-11, 2013
For more information:
The Golden Triangle Show, Inc.
P.O. Box 4163
Alpharetta, GA 30023
Tel.: 770-410-9771
Website: www.gtshows.com