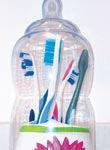 Flushing a toilet sends bacteria eight feet into the air before it begins to settle on nearby surfaces, according to research by Charles Gerba, a professor of microbiology at the University of Arizona in Tucson. When Cindy Martin, co-owner of Cynita, Inc., learned of this, her mind raced to the toothbrushes that lay exposed on her bathroom countertop. Consumers are demonstrating an increasing interest in health and disease prevention, and Martin fell in line with the trend. Experienced with custom products, she worked with a designer to develop a lightweight, economical solution to the germy issue, and the Cover Me toothbrush protector is the result.
Cover Me, a tall dome that fits over most standard size toothbrush holders, protects brushes from sink splashes, hairspray, room deodorizer and restroom germs. Each cover features a curved bottom to allow for enough airflow to prevent mold from forming when toothbrushes are damp and to help quicken drying time. The product, packaged in a clear box for easy shelf display, is made from clear plastic, so as not to hide customers' existing toothbrush holders, but Martin and her business partner, Anita Greger, already have plans to introduce translucent colored versions. The Cynita team hopes to offer customization options, such as printing corporate logos on the product so that it can be marketed to dental and orthodontist offices. "In my home, we use the Cover Me toothbrush protector to shield our own toothbrushes," Martin says. "Over a two week time span, it's shocking to see how much residue has accumulated on top of the cover. That layer of filth would have ended up on my family's toothbrushes, were it not for this product."
"Promotional products and ones that can be customized sell well at small and medium sized establishments, which can include any type of vendor or retailer," Martin points out. "The bottom line is that consumers want products that are affordable, uncomplicated and helpful in providing easy solutions to everyday problems." Cover Me toothbrush protectors wholesale for $2.49 apiece and retail for $5.99. The company has a 50 piece minimum order.
For more information:
Cynita, Inc.
4116 Mt. Carmel Tobasco Rd.
Cincinnati, OH 45255
Toll Free: 888-580-6086
Tel.: 513-943-7769
Website: www.toothbrushprotectors.com