Sweeping and vacuuming after a trim can be a pain when human or animal hair makes a mess that is impossible to efficiently remove. Greg Paul, president of GDP Global and inventor of the HairScape and PetScape mats, loathed the cleanup process after simple hair maintenance. Tired of chasing stray strands for days after grooming, he was determined to fix his hairy situation. "Hair would go all over the bathroom floor and I'd have to remove my bath mat and put the trash can down to try and clean up what got stuck in the grout," Paul says. "There was no product out there that suited what I needed."
In February 2011, Paul took matters into his own hands and invented the HairScape mat. After a long process involving 12 different prototypes, the HairScape evolved with a trapezoid design. Paul found that when the mat folded, the corners would curve around so hair trapped on the mat funneled easily into the trash.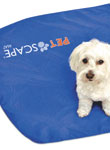 The HairScape mat features a cushion about half an inch deep for comfort, which is covered in nylon. Interested in durable and easy to clean materials, Paul designed HairScape's cover to be made of the same heavy grade nylon used in parachutes and hot air balloons. In addition, the mat is waterproof and the cover detaches from the mat for easy cleaning. PetScape, inspired by Paul's furry Maltese, Teddy, is designed in much the same way as HairScape. However, it also functions as a seat cover in the car, as well as a mat for general pet grooming. HairScape and PetScape mats, retail for $34.95, and a wholesale deal of six mats for $99, or $16.33 each, is available. There is no minimum order. To learn more about HairScape and PetScape, visit Paul at the ASD Show in Las Vegas, August 12-15.
For more information:
GDP Global LLC
20770 Pacific Coast Hwy
Malibu, CA 90265
Tel.: 310-924-2165
Website: www.hairscape.com