Even as independent retailers enjoy warm August nights, they follow the trail of hot holiday gift trends, while stocking up to support fourth quarter sales. One wholesaler sure to attract attention is AFG Distribution, Inc., a company dedicated to providing a complete line of novelty gifts.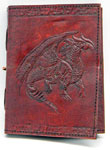 Founded in 1999 as All Fun Gifts, the company recently rebranded to better reflect its offerings to customers and vendors. "We offer a lot more services," explains Chad Kletschka, product manager. "Now we sell to national and regional chains, and work with other wholesalers and distributors nationally and internationally." With more than 8,000 products in 50 categories, AFG Distribution caters to a large number of businesses, including tobacco outlets, convenience stores, clothing boutiques, spas and novelty retailers. "We sell posters, tapestries, blankets and stickers, and a lot of our merchandise has images of pop culture figures and classic rock icons," Kletschka continues. "We have games, puzzles and fun gifts, incense and body care products, handmade jewelry and a large line of smoking accessories." A digital copy of the 2012 catalog is available on the company's website.
"Clothing is good for the holiday season and will do well for us," Kletschka points out. "We carry a full line of tee shirts with classic rock icons and other fun images, and we've added new shirts, jackets, hoodies, funky belts, bags and purses that will be popular." Also in time for the holidays, AFG is selling a complete line of beer pong products. "The beer pong market has blown up in the last few months and is becoming more popular, and e-cigarettes are another growing segment," Kletschka adds.
As people are becoming more environmentally conscious, AFG Distribution is even more committed to offering fair trade and Earth friendly merchandise as well. "We've been working with a number of vendors to carry items that are licensed fair trade, so customers know they are supporting a retail system that is giving back with good wages and good living conditions." All AFG Distribution's products offer good profit margins, Kletschka adds. "We consider end consumers and retailers when we set our pricing, so they can be prosperous and happy. Customers looking to buy large quantities can work out individual pricing. We're always willing to work with customers in this respect."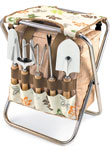 Also great for holiday sales is the line of outdoor leisure and home entertaining products from Picnic Time, now in its 30th year doing business. "We started with traditional European-style picnic baskets and have expanded our line with innovative and practical outdoor leisure products that inspire people to spend quality time with family and friends," says Scott McCormack, director of Sales and Marketing. The company's extensive line includes barbeque sets and accessories, outdoor furniture, coffee and gardening totes, putting sets, coolers and backpacks. The Big Ben picnic backpack, for example, comes with an integrated, exterior double-bottle wine pouch and all the amenities needed for a picnic for four.
"Coolers are a big item. Our party cube cooler, which retails for $59 to $69, is a soft sided, 72 can capacity cooler on a stand. Other big sellers are beach products and tailgating items like the aluminum seat/side table," McCormack notes. "The biggest trend for us has been the uptick in our sports licensed products." Many Picnic Time products are available with a choice of 32 NFL teams and 96 collegiate logos. "We've seen tremendous growth in this category over the last few years, and our sports chair is one of our top products. It has magazine pockets, utility pockets, insulated beverage holders and a built in tray table." The sports chair retails for $79 to $89, depending on whether it's a licensed product. "The two most popular categories at holiday season are our cheese sets and wine totes. Wine totes retail from $9.99 to $79, and cheese sets retail from $15 to $70," McCormack reports.
Picnic Time products generally retail a little over keystone, and the company offers volume discounts. "We usually offer a free freight special at the ASD Show, and a lot of our smaller independents take advantage of our show specials," McCormack adds. Picnic Time's line of products continues to evolve and grow; however, its commitment to customer service remains constant. All of the company's products are tested by independent labs for product safety and have a lifetime warranty.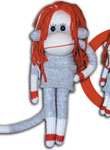 Another wholesaler (new to U.S. retailers) whose products are sure to bring amusement to the holidays is Canada's own, Pook. A night of boyish fun that ended with Tony Pook parading around with a Canadian wool sock on his head was the unexpected beginning for the Pook Toque™ knitted sock hat, and the company's subsequent line of warming gear. Pook Toque, founded by Pook and lifelong friend, Kevin McCotter, also distributes Pook Dukes™ mittens, fleece lined Pook Loop™ scarves, licensed Hockey Sockey Toques, the Pookie Toquie™ hat for babies, Pook Lite, Pook™ the Monkey sock toys, and Pook Boots, Canadian wool work socks with added fleece lining. All products are made from the wool work sock.
Located in Stratford, Ontario, Pook is now wholesaling merchandise in the U.S. as well as its homeland. In Canada, the company's most popular product has been the Pook Toque with ears, which transforms into hundreds of styles. Pook's website posts a flowchart of Pook styling, but to fully appreciate the genius of the man behind the hat, one can view the YouTube video in which Pook himself fashions the bowler for martinis and appetizers, the Donald Trump Comb over, use your imagination, the Robinhood and other varieties. The mittens are a close second to Pook Toque in popularity, McCotter adds. "Most of our buyers are women, and when they buy a hat for their son or husband they usually buy a pair of mitts for themselves. The mitts have a polar fleece lining, so they are super warm."
Pook adds new products each year, expanding with Hockey Sockey Toques this past year. "Getting the NHL license was a pretty good score," McCotter stresses. "We're one of only two companies allowed to make headwear in Canada with the NHL logos." Pook is hoping to expand its NHL license agreement and create hats with U.S. hockey team logos in the future. This year, however, Pook is introducing a new toque fleece lining, patterned after the red and black plaid worker's shirt, which will be a bit flashier and more rustic than the current fleece, McCotter says. "And we're going to start selling socks in different colors. We never actually sold socks, we just bought them and made them into different things," he explains. "We're going to have them in different multi-colors, and I think they will be popular for the holidays." Pook Monkeys, locally handmade at present, also are expected to be holiday favorites. "We haven't started wholesaling the monkeys yet, but we hope to have them available wholesale for the fall." Wholesale price is $12 for any one item and retail is around $24.99 for most merchandise, with socks priced around $15 for two pairs. Minimum order is 25 items in any combination. The Pook Toque style flowchart is available in a large, laminated poster for POP display, as well as a DVD showing how to work the toque.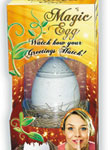 Another novel line of gifts sure to captivate youngsters and oldsters alike comes from The Patent Magic Plant. The company manufactures, brands and brings to market a patented line of Nature's Greeting products and Magic Plants, including flowers, trees, herbs and hot pepper, and Plant Treasures for kids. According to owner Eric Hadad, who launched The Patent Magic Plant in 2009, the company's biggest seller is the Nature's Greeting plant. "Each bean comes pre-planted in a mineral foil in a vacuum sealed container, which promotes shelf life to 24 months," he explains. Recipients simply open the can and add water, and the plant will grow within three to ten days.
Each plant sprouts with a message like "I Love You," "Happy Birthday" and "Thank You." "We offer a new generation of products," Hadad stresses. "Instead of spending $3.99 on a traditional greeting card that will be thrown away, people can add a dollar or two and give a living greeting card that can grow forever. It's magic," Hadad jests. "Actually, we grow our own beans and we use a new technology to engrave the messages." While "I Love You" is a best seller year round, Hadad says "Merry Christmas," "Happy Holidays" and "Happy New Year" messages are popular with retailers as they prepare for fourth quarter sales. Another line Hadad anticipates will be popular for the holiday season is Magic Plant Treasures. These plants grow with animal pictures and names, and are available in dinosaur, insect, ocean and zoo worlds. "These are great gifts for kids," Hadad notes, "and the hot chili pepper is a great gift for men and it's selling like crazy." Another product that will make a great stocking stuffer, Hadad points out, is the Lotto Plant, which grows lucky seven lottery numbers. While The Patent Magic Plant already has a vast line of novelty gift items, it continues to expand, adding three to five items each year. Wholesale price for each item is $2.50, and retail ranges from $5.99 to $9.99. The company offers volume discounts on quantities of 1,000 pieces or more, and every 12 pieces come in a free display box.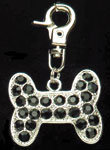 My Shopping Tree offers another gift line ideal for the holidays, specializing in personalized "bling" products for animals, including dogs, horses and those of the human variety. The company's located in Denison, TX and sells collars, charms for collars, and leashes for dogs; halters, charms for halters and bridles for horses; and for people, baseball caps, bracelets and accessory straps for backpacks and purses. "We offer nice gift products at a great pricing point that gives retailers a good profit margin," says Shannon Albert, owner, who has been doing business since 2006. "In an economy when people can't afford to buy a lot of expensive items, they'll buy a cute $20 collar for their dog and it makes them happy," she points out.
My Shopping Tree recently introduced a line of Swarovski crystal horse brow bands, available in black leather with clear crystals and dark brown leather with pink crystals. "They are really beautiful," Albert says. "We're also adding a line of high-end horse halters, and I'm looking at some high-end dog collars that can be personalized. Plus we always get new charms in. We are the only company that offers personalized horse halters with crystal letters and charms," she adds. "Our merchandise is very hot at the holiday season because you can give a personalized gift for a small amount of money."
"Anything personalized seems to fly off the shelf for Christmas, including our personalized people bracelets." Leather bracelets come in a variety of colors and can personalized with the company's 6 mm slide on letters. Bracelets wholesale for $1.50 apiece and 6 mm letters are $5.50 for a pack of ten. "We recommend retailers sell the bracelet and five letters as a package for $10, but the retail price varies greatly depending on the market," Albert notes. My Shopping Tree continues to grow its product line with innovative items for people, dogs and horses. And as one of the largest breeders of Fell ponies (a rare breed) in the country, the company has no shortage of models for its expanding equine line.
With fun and trendy gift merchandise, including unique clothing, beer pong games, funky warming gear, personalized plants, upscale outdoor and indoor leisure products and bling for all species, retailers have many gift options as they prepare for the holidays. The fact that many wholesalers are exhibiting at ASD in Las Vegas, and offering special promotions, is an added bonus.
For more information:
AFG Distribution Inc.
128 Bingham Road, Suite 700
Asheville, NC 28806
Tel.: 855-234-4386
Website: www.afgdistribution.com
The Patent Magic Plant
PO Box 2472
Johnson City, TN 37605
Tel.: 877-801-9733
Website: www.thepatentmagicplant.com
Picnic Time
5131 Maureen Lane
Moorpark, CA 93021
Toll Free: 888-742-6429
Tel.: 805-529-7400
Website: www.picnictime.com
Pook
23 Albert Street
Stratford, ON N5A 3K2
Canada
Tel.: 416-625-1519
Website: www.pook.ca
My Shopping Tree
1183 Oak Ridge Road
Denison, TX 75021
Tel.: 903-647-3110
Website: www.myshoppingtree.com