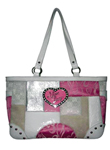 Can one woman have too many handbags? Not according to Rosanna Tran, cofounder of Orlando based handbag wholesaler, Aliz International. The company, founded in 1990, is committed to offering customers the best and newest styles at reasonable prices, and Tran is especially proud of the latest offering from a classic favorite.
"We carry a lot of licensed items, but this year we're helping to celebrate comedienne Lucille Ball's 60th anniversary of the debut of her TV show," Tran says. "But for a change, we're going to showcase the feminine side of Lucy, in addition to our bestsellers showcasing Lucy's funny side." The company has an extensive line of Lucy bags featuring the iconic comedienne, with more than 70 different types and styles for her alone. Quantity prices are available on request.
Another new item from Aliz International is the "crossover" bag. "It offers both convenience and comfort," Tran notes. "It provides high fashion style with hands free comfort, which makes shopping so much easier." The bag is offered in two styles; one for across the shoulder and the other worn around the waist, although Tran was quick to point out that it's not a fanny pack. "Our new design is a slim one, that presents a hip and chic look," she says. The bag is handy when one is out shopping and wants to have both hands free. It also provides extra security for the crime conscious, as it's wrapped over or around the wearer.
Minimum orders start at $200, but there is a five percent discount for orders over $500, and ten percent off orders over $1,000, excluding closeouts and specials. Orders can be called in to one of Aliz's many salespeople, faxed in, or placed online at AlizBags.com. Full color catalogs are available upon request, as are point-of-sale visual aids.
Tran is especially proud of the company's line of "glitter zebra" bags, which she anticipates will be huge sellers this holiday season. They come in nearly five dozen different styles, which can be seen on the company's website at AlizBags.com. One such bag was even featured last year in SuperModel magazine.
For those who'd like to try a variety of the company's products, Aliz offers a special assortment of 50 bags in two different choices. The first is a Manager's Special that contains factory samples and discontinued styles for only $200. The second is the Trendy Pick, with an assortment of 50 of the newest best sellers, also for $200. Both sets of bags are valued at over $1,000. And custom orders are no problem, Tran says. With a minimum of 360 pieces, Aliz can do design, production and delivery in 30 to 45 days.
Aliz does bags very well, and that's due in large part to Rosanna Tran's hands-on efforts. She creates many of the designs herself, as well as inspecting the lining and material that the company buys. "We've specialized for almost 20 years now," she reports, "so we really know handbags from material to workmanship. I personally do it, because it's important to me."
For more information:
Aliz International
11136 Satellite Blvd.
Orlando, FL 32837
Tel.: 407-438-8816
Website: www.alizbags.com