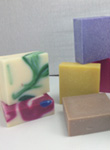 Artisan handmade soap is gaining popularity, and The Soap Guy in Michigan City, IN, is a leading supplier in the industry. The Soap Guy makes and wholesales an extensive line of natural soaps, salts and lotions in over 300 fragrances.
Jeff Dorrian launched the company about 11 years ago and continually strives to make unique, quality items that incorporate products from nearby farms. To get the rich lather these soaps provide, for example, Dorrian uses oil from locally grown soy and corn, rather than the imported palm oil commonly used by other soap makers.
The Soap Guy's artisan products are great gifting items year round, Dorrian points out. "They are popular for housewarmings and birthdays, and we do a really good business in the fall and before Christmas." Retailers in tourist areas are typical customers, he adds. "I just took a reorder from a storeowner in San Diego, CA. She brands the packaging to say 'San Diego,' and tourists can take home an inexpensive gift." Farmers' markets are another popular sales venue for The Soap Guy. "Our products sell particularly well in natural farmers' markets. A beekeeper selling honey, for instance, will add a few related products such as our oatmeal, milk & honey soap, that match with what he is selling."
Greek yogurt and sea salt soaps
The newest introduction in The Soap Guy's diverse line is Greek yogurt soap, which has rapidly become one of its hottest items. With real Greek yogurt in every bar, it is presently made in six fragrances, of which the two best sellers are cucumber lime and lemon spice. Another unique product that is selling extraordinarily well is The Soap Guy's sea salt soap. "There are a couple of reasons for this," Dorrian shares. "Sea salt has properties that are very good for the skin. We do not make any medical claims, but we do get feedback from our customers saying it has helped alleviate a wide variety of issues." Sea salt soap is available in 20 fragrances.
"We also get a lot of repeat business with our lotions, which are available in 15 fragrances," Dorrian continues. "Our individual guest soaps sell well to upscale Bed & Breakfasts, as well as to merchants who make gift baskets." The company's soap loaves, which people can cut into bars, are also big sellers.
Ordering highlights
The Soap Guy's bar soap wholesales for $1.33 and retails for $5 to $7, with retailers in select markets getting as much as $10 per bar. There is no minimum order, and shipping is free with a purchase of $80 or more. Soap packaging is normally a subtle, vanilla-colored sleeve, with the ingredients printed on the label. Custom wraps, often used for party favors, weddings and holiday themes, are available in a variety of colors for an extra $.30 per bar. The company offers fast turnaround, with orders usually shipping the same day they are received. If a retailer is unsatisfied with the products for any reason, the company has a 30-day, no-questions-asked return policy.
The Soap Guy is well known for his social media campaigns, and holds weekly contests on YouTube to give away free products. Retailers who want to learn more about the contests will find details on The Soap Guy's website.
Where to buy:
The Soap Guy
717 Sheridan Ave.
Michigan City, IN 46360
Toll Free: 866-556-9138
Tel.: 312-320-5862
Website: www.thesoapguy.com