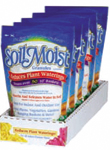 JRM Chemical Inc. sells a line of lightweight, water-storing polymer products in the horticultural, gift, floral, agricultural and holiday markets. Merchandise ranges from water conservation products for indoor and outdoor plants, to decorative and holiday beads and novelties.
The company's flagship product, Soil Moist, reduces plant waterings by 50 percent, limits transplant shock and soil compaction, and is effective in the soil for three to five years. It is ideal for interior and exterior plantings such as trees, shrubs, containers, baskets, flowerbeds, vegetables and turf.
Soil Moist is popular with consumers because it is environmentally friendly and cost effective. "There is less available water and more people in the world," notes Scott Wiesler, VP of marketing at JRM Chemical Inc. "Our product holds the water around plants so people do not have to water them as often. It reduces plant loss on many landscaping jobs from ten percent to one percent."
JRM Chemical offers a dealer mini rack display for Soil Moist. The four-shelf, freestanding polystyrene rack is compact, yet holds seven cases of Soil Moist products.
Deco Beads accent floral and craft pieces
On the ornamental side, JRM Chemical sells Deco Beads, round polymer objects that are used in vases and bowls for floral and lighting arrangements. These products sell well at craft, novelty and gift shops. Users add water to the beads and place them in a container, and they will stay hydrated for two to three weeks. When the beads shrink, users add more water and they swell up again.
Available in various sizes and colors, Deco Beads are a lightweight, cost effective alternative to marbles. "Many florists use marbles in decorative pieces, but they weigh a lot," Wiesler points out. "Deco Beads are initially very small and easy to carry around."
The eight-ounce jar of Deco Beads wholesales for $9.20 and retails for around $19. The minimum order is one case of 12 jars, and retail buyers can mix colors.
New Halloween and Christmas products
The trend toward gel-based products continues with JRM Chemical's newly introduced line of Halloween-themed water-storing products. These include glowing Ghoulish Eyes, eyeball-shaped beads; Spooky Shapes, including bags, skulls, ghosts and pumpkin figures; Scary Slime, water gel slime; Glow Beads, glow-in-the-dark gel beads; Boo Brains, brain-shaped gel; and Wizard Stones, magical gel stones. The products are available individually and collectively in a floor unit.
For the holiday season, JRM Chemical has a popular decorative snow product. Snow Real is a non-toxic polymer that, when mixed with water, makes fluffy, glistening snow. In addition, the company sells Tree Moist, a preservative that reduces waterings for cut Christmas trees.
Where to buy:
JRM Chemical, Inc.
4881 NEO Parkway
Cleveland, OH 44128
Toll Free: 800-962-4010
Visit:
JRM Chemical, Inc.