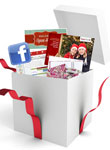 Catch up on techniques and best practices to keep consumers shopping local with "Summer School," a free webinar series presented by SnapRetail. Twelve online classes taught by retail industry experts will be available both live and on demand through August 31. Retailers are invited to attend to learn how to grow their businesses.
For the full line up and to register, click here.
Free webinars include:
3 Tips to Offer Red Carpet Customer Service with Nicole Leinbach-Reyhle of Retail Minded.
July 2, 1 p.m. EST
Stand Out During the Holidays: How to Drive in Shoppers and Increase Profits with Christian Kratsas, Nicole Leinbach-Reyhle, Scott Kreisberg of One Step Retail Solutions and Brian Downard of Pocket Your Shop.
July 23, 2 p.m. EST
Capitalize on the Buy Local Movement to Increase Traffic and Sales in Your Store with Bill McNulty, publisher of Independent Retailer magazine.
July 25, 1 p.m. EST
The Do's and Don'ts of Effective Email Design with Christian Kratsas of SnapRetail.
July 30, 1 p.m. EST
Cause Marketing: Turn Pesky Donation Requests into Money in the Bank with Bob Negen of WhizBang! Training.
August 8, 1 p.m. EST
Working With Bloggers as Marketing Partners with Cindy Meltzer of The Social Craft.
August 12, 1 p.m. EST
3 Tips to Save More, Make More and Effectively Manage Your Finances with Guy Wadas of Integrity Payment Systems.
August 16, 1 p.m. EST
It Starts with the Customer with Bob Phibbs, The Retail Doctor.
August 21, 1 p.m., EST
Make a Shop Local Campaign Work for You and Your Neighbors with Christian Kratsas of SnapRetail.
August 27, 1 p.m. EST
For complete details on SnapRetail's educational webinar series and to register, click here.