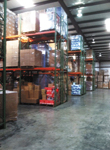 Dixieland Sales Inc. (DSI) distributes closeouts and offers around 5,000 items, with new products always available.  Launched in 1972, DSI's vast product line includes groceries, tools and hardware, knives, lawn and garden, cookware, gifts and novelties, collegiate items and seasonal goods. All merchandise is new, featuring many brand names such as Good Year, Hershey and Kleenex.
Best selling products
"The tool business is good,î notes Matthew Clouser, president. ìHammers, screwdrivers and pliers are big sellers now," he explains, since many people are fixing their own things and caring for their homes themselves, instead of hiring others. Retailers who sell first quality closeout merchandise stand to profit in today's economy. "People are always looking for a deal. They get excited about saving money, whether it is on toilet paper, crackers, cookies, or tires," according to Clouser.
Why choose Dixieland?
DSI sells its products to a variety of buyers, including flea marketers, convenience stores and convenience store wholesale houses. "The flea market business is good in the South, and many of our customers are vendors," Clouser points out. "There are a lot of mom and pop wholesale houses in the more rural communities in the South. They buy from us and sell to their local stores and flea marketers."
DSI works on low profit margins, which allows customers to have larger margins. "We like our retailers to be able to double wholesale and still be under a Wal-Mart or Target price," Clouser says. "We are very conscious when we make a purchase that our buyers will be able to double their money and still charge a price that is attractive to their customers. We pay attention to the fads, and we buy what our customers can sell," he continues. "Being in this business as long as we have, and talking to people on a daily basis, we have an idea of what consumers will buy. Our goal is to provide our customers with buys that will maximize their return."
Ordering highlights
Buyers can make purchases online or at the company's warehouse. When ordering on the website, there is a $100 minimum order, and goods are sold by the case. In store, there is no minimum order and the company will break cases.
Where to buy:
Dixieland Sales Inc.
1307 Buford Street
Huntsville, AL 35801
Toll Free: 800-332-3690
Visit:
Dixieland Sales Inc.