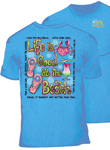 Simply Southern Tees produces country and Christian themed tee shirts, made of the highest quality 6.1 ounce cotton, featuring the latest trends. Launched in 2003, the company also sells related gifts and fashion accessories, including cell phone cases, license plates, handbags and wallets. Simply Southern Tees' clothing and accessory lines sell well in a variety of stores, including gift shops.
New and best selling tee shirts
"Vivid colors are a strong trend right now," says Ginger Aydogdu, owner. Simply Southern Tees offers three main lines of brightly colored tee shirts for women. The Simply Southern line features tee shirts with images and phrases that depict fun southern themes, such as a bright pink shirt displaying a palm tree under the moon, with "Carolina Girl" underneath. The Country Chick line is similar, offering country themes and racier sayings such as "Country Chicks Look Cute in Pink, Better in Camo." Faithful Girl, the Christian themed line, displays inspirational sayings such as "All things are possible," on brightly colored shirts.
Simply Southern Tees' newest line is a selection of men's shirts called Country Things. It incorporates outdoor and sports designs, as well as Christian sayings. All tee shirts wholesale for $7.50 and retail for $16.99 or more. "We also carry gift and fashion accessories that complement our tee shirt line, so we are a one-stop-shop for our customers," Aydogdu points out. "We have handbags with country and Christian themes, and country, Christian and southern license plates. All our products relate. Many items are impulse buys, because they are a low dollar amount," Aydogdu adds. "When retailers keep our products by the register, consumers add them to their purchases. They are easy sells."
Why choose Simply Southern Tees?
Simply Southern Tees stays on top of trends to produce what is popular, according to Aydogdu. "We listen to consumers and use feedback from our customers on what is selling well, and what things they would like to see. They help drive what we make." The company constantly brings in new designs and products, and all design work and printing are done in the USA at the Greensboro, NC, plant. Custom printing of a saying or a store name is also available.
To assist in merchandising, Simply Southern Tees offers two wooden displays. One holds 20 tee shirt designs and is free with the purchase of a dozen of each of 20 designs. The tee shirt and accessory display holds ten tee shirt designs, along with a selection of gift items. It is free with the purchase of one dozen of each of ten designs, and $400 in gift items. Retailers especially enjoy Simply Southern Tees' large inventory and quick shipping. If merchants place an order by 2 pm, it goes out that day.
Ordering highlights
The minimum opening order is $300, and the lowest reorder is $100. Retailers can buy the sizes they need, as there is no minimum per design. With a custom order, the smallest quantity is 60 pieces. Merchants may order online, by phone or fax. Simply Southern Tees offers special discounts throughout the year, as well as free shipping at trade shows. The company will be exhibiting at the Atlanta International Gift & Home Furnishings Market, July 10-17.
Where to buy:
Simply Southern Tees
209 Creek Ridge Road, Suite E
Greensboro, NC 24706
Toll Free: 855-219-4399
Visit:
Simply Southern Tees