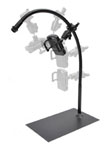 Sometimes it pays to be a couch potato. At least that is true for Irvine Scales, owner of Fit Marketing, LLC. Through Fit Marketing, Scales is poised to launch Smart Cradle in the United States. The product is a novelty item that makes it easy to watch and use a smart phone or tablet while lying down in bed or on a couch.
"For me, this started when I was laying on the couch and trying to watch a movie on Netflix on my tablet," Scales remembers. "My arms were getting tired, my shoulders were hurting, and it was getting annoying. So I looked online to see what was available to help, and there wasn't anything." It took some looking, but Scales finally found a product available in Taiwan that fit the bill perfectly. He soon made arrangements with the manufacturer to market it in the United States, and Smart Cradle was born.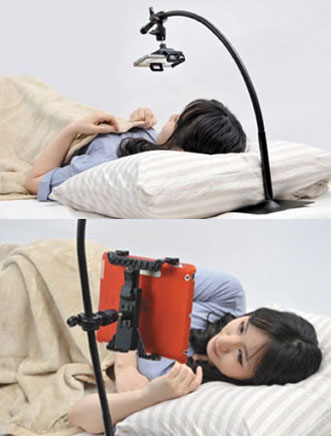 The product features a wide, stable base with a telescoping and fully flexible neck that supports a device clamp. Depending on the model, the clamp is adjustable to fit any of the currently available smart phone or tablet screen sizes. Users can move the neck and slide the clamp to view their device in almost any position, even upside down. "It's secure and totally flexible," Scales says. "It makes it easy to read in any position."
According to Scales, there is almost no limit to the potential applications: students can use Smart Cradle for studying while laying down, and because it works with e-readers such as the Kindle, the product is great for downloaded textbooks; people in wheelchairs can use it to access their devices easily without using their hands; and cooks can use Smart Cradle to support a tablet above the messy counter, so they can read recipes. "I know one lady who has multiple sclerosis and tremors," Scales notes. "This has been a life-saver, because it makes it possible for her to use devices without any tremor." The device can even hold small books. "I was able to read the Bible with it mounted over my head," Scales points out. He recommends the product for retailers that carry electronics, gifts or novelties, including electronics stores, cell phone and computer stores, and wireless stores.
Buying details
Wholesale orders can be placed through Fit Marketing's website. There is a minimum wholesale order of one case, with nine units to a case, not including shipping. Fit Marketing is based in Glendale, Arizona. Smart Cradle wholesales for $34.50 per unit, with a suggested retail price of $69. Some assembly is required for individual units.
Fit Marketing, LLC
Tel.: 1-888-401-1566
Website: thesmartcradle.com