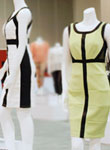 Ask OFFPRICE CEO Stephen Krogulski to define the OFFPRICE apparel shows in a few words, and it takes less than a second: "Fashionable, order-writing, value focused, and for the entire family." For the last 20 years, OFFPRICE has staged one of the country's largest discount apparel shows in Las Vegas, Nevada. This year's show runs August 16–19. Kogulski expects a packed floor of vendors, offering deeply discounted apparel, footwear, and fashion accessories.
Krogulski thinks this kind of long-running success is possible because of the market position OFFPRICE has carved out. "Our events are large shows with a big scale," he notes. "We'll have 1,300 booths with 500 vendors, and the total attendance across the four days should be 10,000 people." From Krogulski's vantage point, this is an exciting time to be an OFFPRICE buyer. With positive signs in the economy and hiring picking up, he is seeing retailers begin to invest in their stores again. Krogulski reports that consumer confidence is picking up, and, "everything is moving in the right direction."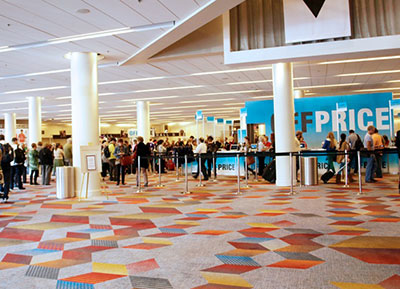 This optimism and bright outlook is reflected in the expected trends at this year's show: bright colors, athletic gear and workout clothes (including yoga clothes), and cargo shorts. "Fashion is colorful right now," Krogulski remarks, 'and we're seeing lots of plaids and bright maxi dresses." That said, it's impossible to know exactly what will appear on the show floor until the doors officially open. OFFPRICE vendors are typically sourcing their products up until the last minute, combing the world's garment and apparel factories for overruns and extra stock that needs to be moved.
Because of this urgency, Krogulski says that savvy buyers show up early. "The first two days are the busiest," he warns. "For those two days we're by ourselves, before the rest of the shows around International Fashion Week in Las Vegas open up. I can't stress enough to come over those first two days, because when those early deals are gone, they're gone. It's like a treasure hunt." To help attendees get the most from the show, Krogulski also advises checking out OFFPRICE's social media accounts. "Our social media is very active," he says. "It helps our folks connect and find out what's going on. It's especially helpful for smaller accounts to get tips and advice, and there are a lot of resources available."
To attend
Buyer attendance at the OFFPRICE show is free for qualified retailers, and they should provide a state retail tax sales number to register. Shuttle services to other shows and local venues are offered during the show.
OFFPRICE
175 N. Patrick Blvd.
Suite 180
Brookfield, WI 53045
Tel.: 262-782-1600
Website: offpriceshow.com
Facebook: facebook.com/OffPriceShow