By Heather Davis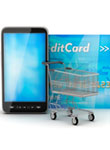 Savvy consumers know better than to pay full price for anything in today's marketplace. Many people are using an array of tools to maximize benefits and discounts to get the best deals on the products they want. Retailer can rise to the challenge by embracing shoptimization with the help of innovative tools and apps created to make shopping with you easier than ever before. Help your customers shop smart, and make shopping easy and fun, with these five tips:
Interactive retail—Focus on customer engagement through social media to evoke positive emotion and maximize your customer's hands-on experience. You can even utilize social media to implement flash sales and promotions designed to reward your most loyal followers.
Get appy—Create your own app or partner with an existing one to offer special discounts, perks or points to fuel more shopping.
In-store GPS—Help your customers find their way to their favorite products with an in store GPS option.
Be competitive—Make sure your prices are competitive. You never know when your product will show up on a price checking app. These apps streamline the shopping process for consumers, helping them locate the best deals, so it is a good idea for you to check them daily.
Offer a daily deal—Consumers love a good bargain and are always perusing daily deal sites. Give them one they cannot refuse by posting it on local daily deal sites, social media and your website.
Whatever you do this holiday season or any other major shopping season, make sure it is a memorable and positive experience for both you and your customer.