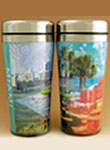 Gifts, novelties and souvenirs are big business in the U.S., and stores in this category generate combined annual revenue of around $18 billion. Top sellers in gift and souvenir shops continue to be upscale and unique mugs and shot glasses, according to Craig Zwirin, owner of Americaware Inc. "Our name is synonymous with popular coffee mugs and shot glasses, and there is something unique about each of our processes. We have had the number one selling coffee mug at the Statue of Liberty for several years in a row, and we are well known for our oversize mugs. In the early 1990s, we created a mug that was launched by a well-known coffee shop. The 18-ounce shorter, wider relief mug with the raised relief in the mold lettering is an evolution of that mug, and our most popular item."
New Night Sky silhouette mug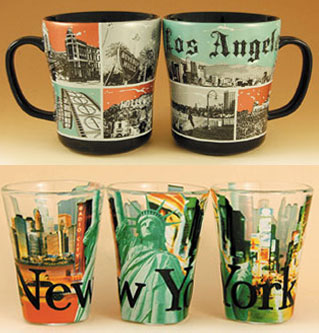 Other examples of Americaware's exclusive products include tall etched mugs and metallic imprint mugs. One of the newest designs is the Night Sky silhouette mug, which uses two-color black and blue reflective glaze, available in around 30 locations. "It was a big hit at the recent IGES/SSS show, and Las Vegas Souvenir & Resort and Gift Show," Zwirin notes. Wholesale is $5.25 each for a case of 24 pieces, and retail is $12.99 to $14.99.
Americaware offers an extensive stock program of mugs and shot glasses that includes dozens of states, major cities and tourist locations, from New York to Los Angeles. It also manufactures a vast selection of location-based stainless steel and aluminum water bottles, candles, coin purses, acrylic tumblers with 3-D lenticular designs, and brown leather can coolers. The company also produces pet mugs and tumblers featuring dogs from an Australian shepherd to a Yorkshire terrier, exotic birds and tropical fish.
Enabling retailers to further customize drinkware for their locales, Americaware will custom print or name drop standard two dimensional full color acrylic tumblers. The minimum order for name drop is 24 tumblers, or any multiple quantity case pack. For 72 tumblers or more, merchants can provide images or request a design to be generated for a specific location.
Buying details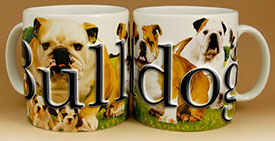 Americaware has been in business for more than 25 years, and its products are featured in major airports, hotel chains, national parks, theme parks, and other souvenir and gift shops. "What we offer, and this is the basis of our success, is a high end, high production product that small retailers can buy in manageable quantities," Zwirin shares. "This kind of quality product generally requires a high production minimum." The minimum order is one case, which ranges from 24 to 36 pieces. Hundreds of designs are available, and the product line is constantly expanding. All merchandise can be viewed on the company's website. Please contact Americaware for wholesale pricing.
Americaware Inc.
300 S. Lewis Road, Unit H
Camarillo, CA 93012
Toll free: 800-854-1652, ext. 18
Website: www.americaware.com