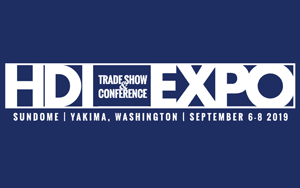 Horizon Distribution, Inc. (HDI) is a full line hardware, farm, and industrial supply distributor. HDI's EXPO began back in 1955 and continues to be held annually the weekend after Labor Day. Starting with about 25 exhibitor booths, they now host over 400 exhibitors with over 80,000 square feet of booth space.
HDI EXPO is held at the Yakima Sundome at State Fair Park in Washington State, which provides the perfect environment to hold exhibitors' booths and displays, as well as several games and activities for visitors to enjoy.
At HDI EXPO, retailers can expect to find:
Over 800 new items
Expo Specials UP TO 30% OFF
Best Bet Buys UP TO 50% OFF
Pallet Buys
Affordable and convenient shipping options
HDI EXPO Best Bet Buys are featured items that registered buyers can purchase for up to 50% off during EXPO events. Throughout the expo, buyers can find products from categories including auto and bicycle, hardware, cleaning and maintenance, electrical and lighting, farm, pet, hand tools, lawn and garden, plumbing, powertools, safety, store supplies, and more.
According to show staff, HDI EXPO is a great fit for farm stores, hardware stores, home centers, lumber and building supply stores, automotive centers, agricultural retailers, and garden and nursery stores, and more.
This year will mark the 65th HDI EXPO. Online registration opens next month. Along with merchandise on display, retailers can attend workshops and speaking events. Visit the website to register, see what exhibitors are attending, and view other show details.
HDI EXPO
September 6-8, 2019
Yakima Sundome & Convention Center
Yakima, Washington
509.453.3181
www.hdishow.com