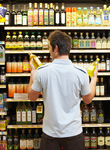 According to Supermarket News, about 45% of consumers have shopped for groceries online, but 60% of that group says they rarely do so. The biggest barrier to online grocery shopping is perishables like meat and produce. Supermarket News explains 53.7% of consumers don't trust others to pick out the best or freshest grocery items, which prevents them from buying groceries online. Another 44.3% of consumers won't pay for delivery, which can be expensive with perishable foods.
However, according to ABC News, online grocery shopping could be a $100 billion dollar industry by 2022, with as many as 70% of consumers doing a portion of their food shopping online. With Amazon's recent Whole Foods purchase, and Target and Walmart's increased efforts to offer grocery deliveries nationwide, it's only a short matter of time before online grocery catches up with the rest of retail.
But, online grocery shopping is as old as the internet itself. Peapod was founded in 1989 and provided an online shopping service for various supermarkets. In 1996 Peapod launched their own website and was one of the earliest internet start-ups. Today, Peapod partners with Giant and Stop & Shop supermarkets to provide online ordering and home delivery to consumers across the country.
Until somewhat recently, Peapod was a kind of lone wolf. The logistical challenges of delivering groceries caused a lot of other startups to fail, and many other companies to not even try. Perishables have to remain cold. Eggs also have to arrive unbroken, milk and liquids should remain upright, and bananas and tomatoes shouldn't get too cold. There is a myriad of other intricate details behind last-mile grocery delivery that are more complicated than delivering apparel and other regular retail items.
Not to mention, the grocery business operates with smaller profit margins than most retail stores. Instead, grocers rely on high sales volume to make a profit. Before, the costs for grocers to offer ecommerce were seemingly not worth the risks. But, now that consumer expectations and buying habits are changing, the online grocery business can no longer be ignored.
The New York Times dubbed groceries the "last frontier of online shopping." Despite Peapod being one of the first internet startups that statement rings true. Today, 97% of grocery purchases are still made in-store. But, for a retail sector that relies on sales volume, small chains and independent grocers can't let Amazon/Whole Foods, Walmart, and Target take the lead in online ordering.
To keep pace, retailers can do several things. Having a functional website with updated inventory and pricing is the first step. The next step is offering online ordering. Even if you're not ready for home delivery, offering a buy-online-pickup-in-store (BOPIS) option is a great transition step, one that some shoppers may even prefer over home deliveries. Then, there are two ways to approach home delivery. First, you can hire your own delivery employees and do everything in-house. Or, you can partner with delivery services such as Instacart, which has personal shoppers who package and deliver the orders themselves. Grocery is "the last frontier of online shopping," but that only means there is still plenty of land for independent retailers to stake a claim in.