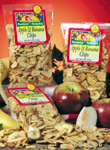 An early advocate of no sugar, no salt and pure healthy snacking, Mister Snacks, remains a supplier of healthy alternative snacks to the traditional choices. Although the company's products have evolved over the years, adding the flavors of chocolate, yogurt, pepper and other hints of spice, Stephen Stern, VP of sales, notes, "Even with a little sweetness and salt in the mix, our products offer a healthier snack for anyone looking to eat something better than a candy bar or bag of chips, and nearly every item is Kosher." In the snack business, it doesn't pay to be stale, and Mister Snacks is working hard to constantly bring fresh new products to market that fulfill retailers' expected profit margins and please their customers' taste buds. With several offers, including Trail Mixes, Savory and Crunchy combinations, and Chocolate and Yogurt blends, wholesaling for $1.30 for a five to six ounce bag and retailing for $2.29, both goals can be met.
Fresh and Tastey Impulse Buys
The wholesale supplier's best-selling collection is Sunbird Snacks, a premium offer of the highest quality products. Sunbird Snacks' Big Bag line is the right size for most locations, and a favorite of retailers who have carried Mister Snacks products for 30 years. In addition to the Big Bag line, Sunbird Snacks also come in the following subcategory product lines: Premium, Gourmet, Party Size, Snack Size and Bulk. "We offer the same products in our Party Size for the grocery trade, and a single serving Snack Size for locations that require a lower retail price at the counter. Our Premium Line gives customers an elegant look, with a selection of fine chocolate and nuts, while the Gourmet Line offers the gift basket trade a beautifully hand-packed selection," says Stern. The company's second collection, Stone Mountain Snacks, boasts premium snack products with an, "earthy, gourmet look and a wide variety of tastes."
Mister Snacks has a snack for all acquired tastes, such as its top three selling mixes. "Our business would continue successfully if we just offered our Rocky Mountain Mix, a blend of peanuts, raisins, almonds and M&M type candy. It is by far the favorite," says Stern. "It's a compromise mix, with a little bit for your healthy side and a little bit for your sweet tooth." Second in leading sales is the Health Mix, a combination of fruits and nuts with no added salt or sugar, and third is the Yogurt Trail Mix, consisting of yogurt covered peanuts, raisins and more. And while snacks are usually all about flavor, the wholesaler is also focused on quality and packaging, because taste isn't the only thing that sells. "Our mission is to offer our customers a healthy, high quality alternative snack line, and to show that by packing them in a crystal clear package with very attractive labeling," emphasizes Stern. Mister Snacks boasts mixes with a shelf life of 8 months, and knows that its revealing package is a great way to market its freshness. Retailers can even have products packaged with their very own private label, as part of the supplier's Private Label line.
As a manufacturer and supplier, Mister Snacks has a lot to offer retailers. "We don't have a minimum order at this time because of the economy, and the fact that the price of nuts, such as cashews and pistachios, has increased," says Stern. Although the best display tool is the package itself, the company also has fixtures available, including the affordable 72 package POP display, which holds a dozen each of six of the best selling products. Another tool Mister Snacks offers is its Internet site. "Our website is most definitely an important part of our business. It makes it a lot easier for people to find the information they are looking for," notes Stern.
For more information:
Mister Snacks Inc.
500 Creekside Drive
Amherst, NY 14228
Toll Free: 800-333-6393
Website: www.mistersnacks.com