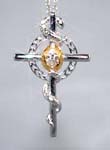 With a new surge of patriotism sweeping across the U.S., the time is right for Heroes Cross to make a splash in the retail world, and that's just fine with company founder, Al Risdorfer. "The company was inspired by the heroes among us, those everyday folks who go above and beyond," he says. As such, Heroes Cross carries a full line of custom made crosses that honor firefighters, police officers, members of the military, and medical professionals. "This was all inspired after the 9/11 attacks, and by the ongoing wars where our soldiers make sacrifices every day," Risdorfer says. To that end, Heroes Cross donates 10 percent of profits to a number of charitable organizations that support the work of regular heroes. "We support the 9/11 Memorial, as well as foundations for fallen police officers and firefighters, among others," he says.
The company features three separate offerings: the Heroes Collection, the Public Safety Collection, and the Ribbons for Heroes Collection. Each honors a separate group or profession. The Heroes Collection comes in sterling silver and wholesales for $20 each, retailing for $40 and up. The Public Safety and Ribbons designs are platinum plate over a zinc alloy, and wholesale for $15 each, with MSRP of $30.
"While we do sell some items over the web, we're currently looking for more retailers to carry our line," Risdorfer says. "We're hoping to build up our wholesale business, as every time we show our crosses, people always snap them right up." The company offers a countertop display case for $75, but it's available free with special package orders, and volume discounts are also available. Interested retailers can see the complete line at CausesAndHeroes.com, where there's also a link for more information. "These heroes are putting it on the line for us all, every day," Risdorfer says. "The least we can do is honor and recognize their sacrifices."
For more information:
Heroes Cross Co.
6030 Daybreak Circle
Suite A150, Box 237
Clarksville, MD 21029
Tel.: 410-531-7709
Toll Free: 866-511-HERO
Fax: 410-531-7710
Email: arisdorfer@heroescross.com
Website: www.wholesalecentral.com/heroescross