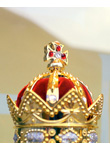 The New York Times said it best in an article title, "Nothing Sells Like Celebrity." Today's customers surf the Internet, read newspapers and magazines, watch television and launch smartphone apps, expecting to see a celebrity selling something. According to NY Times Columnist, Julie Creswell, "Over the last decade, corporate brands have increasingly turned to Hollywood celebrities and musicians to sell their products. Stars showed up in nearly 14 percent of ads last year [2007]…While the number has more than doubled in the past decade, it is off from a peak of 19 percent in 2004." The thought process during marketing for product manufacturers and retailers is that celebrities captivate consumers, and in an effort to imitate, consumers purchase products they see celebrities endorsing or using.
Independent Retailers Profit from the Kate Middleton Effect
No one said an idealized celebrity had to be a TV talk show host or a pop star, in fact no one said the celebrity had to be a resident of the same country. Take for instance the recent Royal Wedding, an occasion that had many Americans rising early from valuable slumber on a work night, but more importantly a grandiose event that occurs on a smaller scale daily as two people join in holy union to begin a family of their own. The only difference, the groom of this publicized wedding is descendent of a royal line, and the bride is a former girl next door and now wedded princess.
With a nation celebrating, so were U.K. retailers, as The Wall Street Journal reports, "The Centre for Retail Research, a consultancy, said additional food and drink sales due to the wedding could add up to £160 million ($260.24 million). On top of that, it predicts a £370 million boost from retail sales on the extra vacation day, sales of memorabilia and increased spending by foreigners visiting to experience the wedding." As the U.K. economy is struggling to grow, gross domestic product for the second quarter of the year may rebound modestly because of the wedding festivities.
For those retailers in the U.S. still working to brush off the effects of the recent economic slowdown, the Royal Wedding and the "Kate Middleton Effect" luckily appear to have no national boundaries. Thanks to the media hype and resulting anticipation, boutiques and other retailers feel the Royal Wedding is one of the best things to happen to them post 2010. For instance, as CBS New York reported, Davis Reiss, designer of one of Middleton's favorite fashion brands and store owner in New York, "opened his first New York City location six years ago, but lacked a serious presence in New York City and the rest of the United States until the attractive, slender, brown-eyed girl from Berkshire, England, caught young Prince William's eye and was photographed in one of the dresses nearly a decade later." Shoppers want to see how a princess dresses and what she purchases, so they can replicate that royal feeling.
From the English Palace to the Jersey Shore
The celebrity effect isn't limited to princesses either; take for instance, TV reality phenomenon the Jersey Shore. Continuing to draw an audience, the reality show's stars such as Mike "The Situation" and Nicole "Snooki" live comfortably on endorsement deals. In the May 2011 issue of Independent Retailer magazine, Pat Yates, Happy Feet owner, explains the success and popularity of Snooki Slippers, saying, "We were selling slippers primarily to cart and kiosk vendors. One of our vendors called us after seeing Snooki wear them on an episode of Jersey Shore, and asked if we could get some." The result in growth from this celebrity endorsement has Happy Feet now expanding its line. Doesn't matter the celebrity status, customers like celebrity endorsed products from Berkshire, England to the Jersey Shore.